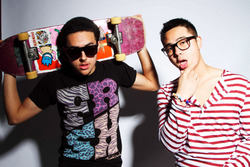 "We have great fans out there that were waiting on us to put out some new music"
Irvine, CA (PRWEB) April 14, 2011
The Bay Area electro-pop duo of Malcy and Rick of Militant Fam have been working hard in the studio lately, preparing for an April 30 release of their new 6AM single and music video.
"We are really excited about our new follow-up single," Malcy said. "We've been kicking around some ideas in the studio and have come up with a hot new song that will be coming out the end of April."
The team hit the music scene in March 2010 with the debut of their first hit single "All Night" that took online music by storm and still has strong play on the World Wide Web.
"We have great fans out there that were waiting on us to put out some new music," Rick said. "We can't wait to perform them live as well."
The duo will perform at noon on Saturday, April 16 at the Celebrate UCI event on the campus of the University of California at Irvine. More than 1,500 students are expected at this free university event.
Militant Fam weaves electro-pop, alternative and hip-hop in a cool new fusion style that unites music genres. Similar to Cataracts, LMFAO and Dev, their unique style comes from their musical tastes and influences as well as the fact that they are college students at Southern Cal.
"We've been rapping and singing since we were only 16 years old," Malcy said. "It is definitely in our blood and our unique musical style definitely represents who we are."
Militant Fam will be releasing their new 6AM single and music video at the end of April and plan to play more local shows to promote their new song. To get more information about the electro-pop duo, or to get dates for their upcoming shows, check them out at http://militantfam.tumblr.com/.
###