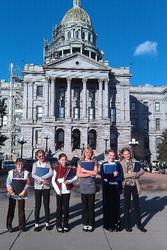 I know everybody is cutting spending, but there are a lot of people out there who care about education," said the girls. "Maybe they'll help us save our teachers.
Colorado Springs, CO (PRWEB) April 14, 2011
One week ago, 5 grade school girls from Colorado decided to take action themselves to raise the funds necessary to retain the educators their school district was preparing to cut. They are still at it. Donations are arriving, not only from their own school district, but also from as far away as Japan! Messages of support and donations are coming from Chicago, Arkansas, California, Maine, Montana, Arizona, South Dakota, Texas, Wisconsin and more. The girls are considering a new goal; "We think we can get donations from all 50 states." "It is so awesome to see people across the country supporting this effort. When people come together, they can achieve big dreams."
While states across the nation are being forced to cut their educational spending, five Colorado Springs elementary school students have been trying to do something about it. When they heard that their district was proposing to cut salaries and reduce staffing for Learning and Literacy specialists, a group of 4th and 6th grade students decided to take matters into their own hands. The students—Ally Arenson, Eloise Bellingham, Brooke Miller, Ariana Arenson and Nicole Bellingham—have set out to raise $371,000 to offset the funding cuts, and they plan on doing it in a matter of weeks.
After learning about the cuts that would eliminate their school's Remedial Learning and Gifted and Talented programs—programs vital to the success of all students—they decided to take action. These determined young ladies started by setting up meetings with their Colorado State Representatives, Representative Bob Gardner and Senator Keith King, to learn more about the situation and lobby against the funding cuts.
They knew discussions on their own weren't enough, so the girls created a video about how their state Education Funding Formula works, and set up a website: http://www.dollars-4-scholars.com to raise money to offset these cuts.
They are still taking donations, and the girls remain optimistic even though they know that $371,000 is a lot of money for five grade school students to raise in only 3 weeks. "I know everybody is cutting spending, but there are a lot of people out there who care about education," said the girls. "Maybe they'll help us save our teachers."
For more information go to http://www.dollars-4scholars.com or contact:
ally(at)dollars-4-scholars(dot)com, ariana(at)dollars-4-scholars(dot)com
brooke(at)dollars-4-scholars(dot)com Eloise(at)dollars-4-scholars(dot)com
Nicole(at)dollars-4-scholars(dot)com
Dana Duggan: (719) 964-7421
Lori Bellingham: (719) 331-6443
###