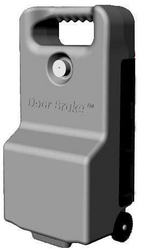 When Door Brake™ is placed in front of the door; Hercules himself won't be able to get in the house.
Howell, MI (PRWEB) April 19, 2011
It is perhaps unfortunate that the days of leaving the front door open are long gone. Indeed, one shouldn't even leave their email box unattended as at any point; Jim from Accounting might get a bit too nosy. Don't even think about using Facebook or Twitter to notify "friends" of weekend or extended vacations. And hope that the GPS is never stolen, as it gives criminals step by step directions to the front door.
It's so easy for devious criminals to gain access to info and in turn gain access to folk's homes. In these modern times of constant and pervasive threats, it is critical that significant measures are taken to protect homes and loved ones. These sad but true facts have resulted in folks throughout the country investing thousands of dollars trying to protect themselves and their family.
How ironic, yet timely it is, then, that along comes a simple, but ingenious device that can go a long way toward insuring home security. Sean Nalepka, an Environmental Engineer of Howell, Michigan has developed the Door Brake™, a home security device engineered to keep intruders out of homes, apartments, dorm rooms, bedrooms, etc.
The beauty of Door Brake™ is its simplicity. It is designed to grip the floor, absorb impact and transfer force to the stronger, hinge side of the door so that intruders can't forcefully enter the door. As if this weren't enough, the Door Brake's piercing alarm simultaneously lets the homeowner and intruders know that someone's trying to break in.
When Door Brake™ is placed in front of the door; Hercules himself won't be able to get in the house. Indeed, it's so simple to use, people wonder how it could possibly work. Go to http://www.doorbrake.com and watch to see!
Compare Door Brake™ to the elaborate systems that cost thousands of dollars that, yeah, sure, can provide an intruder alert. What good is that? The bad guys are already in the house. With Door Brake™ they don't get that far!
Although the Door Brake™ has been featured on national television, has had commercials aired during the Oprah Winfrey Show and has received accolades from those who have used it throughout the country, many people still aren't aware of how something so simple can provide such a powerful and vital solution to the threats to our daily lives. Maybe it's time they checked it out. For more information, contact Door Brake at http://www.doorbrake.com or 877 561 4144
###