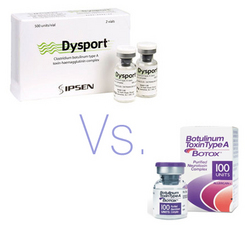 Dysport has successfully entered the cosmetic marketplace and is received with tremendous recognition.
Beverly Hills, CA (PRWEB) April 13, 2011
When The Dysport Challenge hit the web last year, consumers were standing by in excitement. A "satisfaction-guaranteed" offer from Dysport allowed the anticipating consumer to try and evaluate the newly available product absolutely risk free. If the product was not "loved," quite literally, Dysport would offer a $75 rebate off its competitor's brands, such as Botox.
The results of the "Dysport Challenge" were astounding, revealing an overwhelming approval rate for the product. Users had three months to enjoy the benefits of their cosmetic injections and decide how the product compared to other market competitors. Consequently, 97% of the new product testers subsequently chose to use Dysport again and over any other botulinum toxin type A product available to them.
How does Dysport, Botox or any botulinum toxin work to reduce wrinkles? The substance is injected into the facial muscles to relax them and consequently smooth the lines and wrinkles produced by the routine folding of the skin, such as during laughing or frowning. First developed in the United Kingdom in the early 1990s, it has been used for cosmetic treatments for over 10 years.
A 97% preference advantage is a major breakthrough in the botulinum toxin market, which was previously dominated by Botox injections, a brand of botulinum toxin produced by Allergan, Inc. As it would appear, consumers are now given a choice between 2 effective, FDA approved dermal fillers.
Why are the results so overwhelmingly one sided? What did the consumers have to say about the new product? It appears that, from surveying many of the individuals who have tried this new product, results were maintained longer and fewer units of product were needed in order to achieve the desired aesthetic effect. All in all, it would appear that Dysport has successfully entered the cosmetic marketplace and is received with tremendous recognition.
To learn more about Dysport Injections as well as to find out if it is the right solution for you, visit http://www.celibre.com or call (310) 373-5000 and schedule a free consultation at a location near you.
###