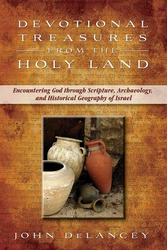 "Years of teaching in Israel have made 'Devotional Treasures' a useful guide to the land of the Bible. Site by site, travelers discover the rich history and culture of each place and meditate on the deeper meaning of their experience in the Land."
Glenshaw, PA (PRWEB) April 19, 2011
There is no other recent book written for the Christian tourist to Israel and Bible student alike that uniquely blends the worlds of biblical archaeology, historical geography, and Scripture into heart-tugging devotional material. This newly released book (299 pages), written by pastor and acclaimed tour leader Dr. John DeLancey, masterfully guides the reader through 68 ancient sites in Israel. The ultimate focus of the book is the devotional treasures to be excavated, leading to an exciting personal encounter of God through an exploration of the world of the Bible.
This timely resource for those who travel to Israel bridges the oft artificially created canyon between mere "site information" that other books only offer with timeless treasures of faith. Drawing from a year of study in Jerusalem and two decades of leading tours to Israel, Dr. DeLancey's carefully researched and insightful descriptions of each site cause Bible stories to spring to life-transforming spiritual application.
Lois Tverberg (Author of Sitting at the Feet of Rabbi Jesus) comments, "Years of teaching in Israel have made 'Devotional Treasures' a useful guide to the land of the Bible. Site by site, travelers discover the rich history and culture of each place and meditate on the deeper meaning of their experience in the Land."
Dr. Tom Tribelhorn (Ph.D., Seminary Professor) adds, "Dr. DeLancey brings to the table careful research and years of first-hand experience to this book, part travelogue and devotional guide. He helps the reader understand not only the 'what' and 'where' – plenty of books do that – but also the 'who, how, and why' of biblical places as few others can."
Dr. DeLancey is founder of Biblical Israel Tours. He currently serves as the lead pastor of Stoneridge Covenant Church, Allison Park, PA. He has served this Pittsburgh-area church for 12 years. He enjoys running ultra-marathons.
Devotional Treasures can be previewed and purchased at http://www.biblicalisraeltours.com.
###