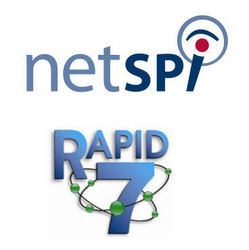 "Rapid7 offers the industry's most powerful vulnerability management and penetration testing tools. NetSPI is a leading information security consulting firm with a proven methodology. The combination will benefit both our companies and our clients."
Minneapolis, MN (PRWEB) April 14, 2011
NetSPI is pleased to announce its partnership with Rapid7, the leading provider of unified vulnerability management and penetration testing solutions. "We see incredible synergy in this relationship," says Deke George, CEO of NetSPI. "Rapid7 offers the industry's most powerful vulnerability management and penetration testing tools. NetSPI is a leading information security consulting firm with in-depth security knowledge, vertical industry expertise, and a proven methodology for ensuring compliance and minimizing risk. The combination will benefit both our companies and our clients."
As a NetSPI partner, Rapid7 will provide clients with PCI ASV (Approved Scan Vendor) services, vulnerability assessment, and penetration testing. The company's NeXpose tool leverages a vast vulnerabilities database to identify weaknesses in networks, operating systems, databases, and web applications and recently received the highest possible rating in Gartner's Marketscope for Vulnerability Assessment 2010. Rapid7's Metasploit is an advanced tool for penetration testing, designed to efficiently work deep within networks to identify, assess, and exploit vulnerable web applications in order to anticipate and prevent malicious attacks.
NetSPI provides comprehensive assessment, audit, and advisory services to companies that require the highest level of information system security. "Information security isn't a sideline for us. It's the focus of all we do," says NetSPI CTO Seth Peter. "We deploy the best automated tools available along with manual testing to provide complete, integrated services. Our people are experts who understand the specific needs of our clients' industries and the changing threat landscape. The hackers keep upgrading their tools and skills, so we have to do the same to stay ahead of them, and our relationship with Rapid7 helps us do just that."
NetSPI's proven methodology and comprehensive approach to information security has kept the company in the vanguard of the industry. Customers include Carlson Companies, Digital River, Domino's Pizza, Fairview Health Services, GE healthcare, NCR and VeriFone.
About NetSPI
NetSPI, a privately held information-security consulting company, provides advisory, security assessment, and audit services designed to identify, analyze, and mitigate risks and ensure compliance with relevant laws and industry standards. Clients include large hospitals, financial firms, retailers, colleges and universities, utilities, and software companies. More information is available at http://www.netspi.com.
About Rapid7
Rapid7 is the leading provider of unified vulnerability management and penetration testing solutions, delivering actionable intelligence about an organization's entire IT environment. Rapid7 offers the only integrated threat management solution that enables organizations to implement and maintain best practices and optimize their network security, web application security, and database security strategies. Recognized as the fastest growing vulnerability management company in the U.S. by Inc. Magazine, Rapid7 helps organizations mitigate risk and maintain compliance for regulations such as PCI, HIPAA, FISMA, SOX and NERC. Rapid7 also manages the Metasploit Project, the leading open-source penetration testing platform with the world's largest database of public, tested exploits. To obtain a free download of NeXpose or Metasploit, please visit http://www.rapid7.com/resources/free-downloads.jsp. For more information, visit http://www.rapid7.com
###