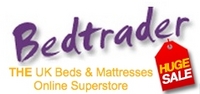 Our team at Bedtrader are aware that many families throughout the UK are feeling the pinch in the current economic climate, so they are pulling out all the stops to get all our customers a great deal on their new bed. - John Murphy, Bedtrader
(PRWeb UK) April 14, 2011
The Easter Holidays are an exciting time, quality family gatherings, no school/college and chocolate Easter eggs, whilst lying in till noon.
Sunny spring days full of fun activities await hectic trips with the kids to the seaside, followed by bowling with the lads, shopping with girls and partying till the sun comes up.
With the vernal season upon us, busy days can turn into restless nights and everyone knows that the Easter Bunny won't be hopping to your aid.
As Bedtrader appreciate how important the comfort of your own bed is, from 20th April till May 2nd, the company is offering 10% off all Silentnight beds and mattresses and 10% off next day bed frames.
As Silentnight is the most trusted and valued bed brand in the UK it is great to be able to offer all our customers the best for less.
Known as The UKs Beds and Mattress Online Superstore, Bedtrader has been an online shopping favourite since 2006.
When it opened its doors to the town of Hartlepool in 1996, no one could have imagined the success rate that the company achieved in such a short time.
100% customer orientated, Bedtrader makes every customers bedtime their business, advising nothing but the best at the lowest prices.
Ordering online from the company is simple, but if you aren't computer friendly or prefer a friendly chat over the phone - give them a call. Sales associates are available from Mon-Sat (9:30- 5pm) and can answer any questions you may have about sales, deals or textiles.
Do you like to compare the market? Bedtrader will match any prices cheaper than their own and then add another 5% off.
Check out their website at http://www.bedtrader.co.uk/ for information on warehouse clearance deals. Designer brands at ridiculously cheap prices, they might as well be giving them away. Top brands include Silent Night, Rest Assured, Myers and Sealy, but many more are available through the vast achieves.
The regular bundle deals, makes buying mattress and bed frames together a cheaper and easier alternative to shopping around for both. There is also a huge range of Divan Beds and Memory Foam Mattresses to choose from.
On top of this, there are the ever popular manager's specials and cheapest deal sections on the website, where the company will highlight the best quality lowest price compositions.
Having branded the site cheapest on the net, you will struggle to find anything cheaper anywhere else.
The company don't just sell and stock for the homes and families, distribution is available for hotels, care homes, guest houses, housing associations and more - meaning that there is something for every need.
Many goods are available for next day delivery including the huge sale offers, meaning that this Easter you can relax in your new memory foam divan, royally eating chocolate eggs as you watch Kate and William wed.
John Murphy the owner of Bedtrader commented on the Easter month deals, "Our team at Bedtrader are aware that many families throughout the UK are feeling the pinch in the current economic climate, so they are pulling out all the stops to get all our customers a great deal on their new bed."
###