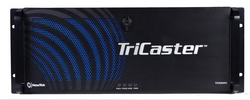 "TriCaster 850 EXTREME is a groundbreaking product; a quantum leap as large as any other innovative product that NewTek has introduced," said NewTek Chief Technology Officer, Andrew Cross.
Las Vegas, NV (PRWEB) April 13, 2011
NewTek, worldwide leader in portable live production and 3D animation systems, today introduced TriCaster™ 850 EXTREME™, an advancement that blurs the lines between live and post production and will radically change the way an integrated live production system is defined. TriCaster 850 EXTREME includes proprietary NewTek IsoCorder™ multi-track recording technology, which provides the ability to record up to eight channels of video from either inputs or outputs. TriCaster 850 EXTREME offers important additional benefits, such as direct support for any Apple® AirPlay®-enabled app or device, plus EQ and compressor/limiter capabilities on every audio input and output.
"TriCaster 850 EXTREME is a groundbreaking product; a quantum leap as large as any other innovative product that NewTek has introduced," said NewTek Chief Technology Officer, Andrew Cross. "We have overcome the technical challenge of recording eight channels of HD video, simultaneously with HD virtual sets and HD streaming in one system, which was previously thought unrealistic in the live production market."
TriCaster 850 EXTREME benefits and features include:

Proprietary NewTek IsoCorder Technology – Multi-track recording technology lets you record up to eight channels of video from any input or output, and supports multi-format recording
with adjustable audio headroom.

Apple AirPlay Support – Add video and audio from any AirPlay source – such as iPad®, iPod®, or iPhone® – into your live production. TriCaster supports two simultaneous AirPlay audio/video streams. It is wireless and instantly compatible with any AirPlay-enabled app or device.
Animation Store Transitions – Deliver transitions embedded with full-color, motion video effects and audio, from a total of 11 animation stores. The included Animation Store Creator is a transition editor that allows users to author custom animation store transitions, using their own preferred graphics software tools to prepare the animation sequences.
Configure Stream Connection Module – Lets users configure, store and import favorite streaming set-ups as pre-sets, and use the integrated Web browser to access online CDN accounts to manage, test or view shows, even during live production.
Advanced Audio Mixer – Each audio input (including internal sources) and output now includes an integrated seven-channel equalizer and compressor/limiter for advanced audio control, audio follows video, audio grouping and streaming.
Media Players – Performance enhancements include adjustable audio level settings for each clip, improved file format compatibility and performance for many common file types, and more.
Import Media – Select and import all types of media files, including Apple ProRes for use in TriCaster Media Players, with expanded file format compatibilities and quick batch processing.
Alpha Channel Output – Output an alpha matte on the auxiliary video output for added flexibility.
Multi-Tiered Fail-Safe – Always on-air, multi-tiered systems and redundant hardware ensure audio and video pass-through.
Linear Timecode (LTC) Support – Decodes the time value from the audible signal, and uses it for clock displays and embedded timecode when recording video.
Another unique feature of TriCaster 850 EXTREME is the addition of a Quick Response (QR) code in the user interface. Users can click a button in the title bar on TriCaster's Live Desktop to reveal the QR code, scan it (e.g., with their iPad, iPhone or mobile device), and have immediate access to the TriCaster 850 User Guide, without interrupting their live production.
Pricing and Availability
TriCaster 850 EXTREME will be available in Q3 2011 and retail in North America for US$39,995. The price may vary internationally. Educational pricing is also available. For more information, please visit http://www.newtek.com, or call NewTek Sales at 800-368-5441. International callers dial +1-210-370-8000.
NAB Special Pricing
NewTek is offering the TriCaster 850 EXTREME Special at NAB 2011. To qualify for the promotional $37,995 price, the unit must be purchased before May 31, 2011, with immediate delivery of
TriCaster 850. Customers will be charged $24,995 at the time of purchase with deferred billing of $12,995 for the EXTREME upgrade, when it ships in Q3, 2011. They must also take delivery of the EXTREME upgrade within 30 days of its release to qualify for the special $12,995 pricing.
About NewTek at National Association of Broadcasters Show 2011
NewTek will demonstrate its latest products, including TriCaster 850 EXTREME with IsoCorder technology, TriCaster 850 CS, TriCaster Virtual Set Editor, 3Play 820 and LightWave™ 10.1 at booth #SL4514. In addition, NewTek will give away over $100,000 in prizes during the TriCaster-A-Day Giveaway. NewTek will present the second annual "Broadcast Minds" free event on Tuesday, April 12 at the Renaissance Hotel beginning at 6 p.m. PT. Panelists include Adam Carolla, Leo Laporte, Steve Hellmuth, and Mark Fratto. The event will be moderated by Eric Schumacher-Rasmussen, editor, Streaming Media Magazine. Space is limited and guests are encouraged to sign up at http://www.newtek.com/nab.
About NewTek
Benefiting producers and artists with cost-effective and groundbreaking technologies, NewTek is a worldwide leader in portable live production, video editing, 3D animation and special effects tools, including the TriCaster™ product line, 3Play™ and LightWave 3D®. NewTek has won numerous industry accolades, including two Emmy® Awards.
Clients include: MTV, Adam Carolla Show, Leo Laporte's TWiT.TV, ESPN X Games, New York Giants, NBA Development League, St. John's University, Fox News, BBC, NHL, Nickelodeon, CBS Radio, ESPN Radio, Fox Sports, USA TODAY, Department of Homeland Security (DHS), North American Aerospace Defense Command, National Aeronautics and Space Administration (NASA). NewTek products have been used in feature films and television shows, including "Avatar," "TinTin," "Repo Men," "V," "Fringe," "CSI: Crime Scene Investigation," "The Fairly OddParents" and more.
NewTek is privately owned and based in San Antonio, Texas. For more information, please visit: http://www.newtek.com.
TriCaster, TriCaster EXTREME, IsoCorder, TriCaster STUDIO and TriCaster BROADCAST are trademarks of NewTek.
3Play, LightWave, TimeWarp, SpeedEDIT, iVGA, LiveSet, LiveMatte, LiveText, DataLink, and 3D Arsenal are trademarks of NewTek.
LightWave 3D is a registered trademark of NewTek.
All other products or brand names mentioned are trademarks or registered trademarks of their respective holders.
###