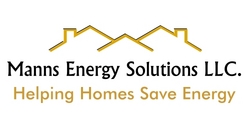 Warner Robins, GA (PRWEB) April 18, 2011
Mann's Energy Solutions is small but effective company specializing in Home Energy and Weatherization Services. "We were started on April 5, 2011 in Warner Robins, Georgia. We launched this company because of the high cost and demand for Crude Oil an the effects it was gonna have on low and middle income families home utility cost. The different ways that we can help is by having a service that anyone can use to cut their energy cost focusing on different areas of concerns such as lighting, windows, doors, insulation, appliances etc.
The company target these areas an much more to look at what all can be done to bend the wasted energy losses curve down stated Arthur Mann Owner/ Operations Manager.
Homeowners and renters interested in learning more about having a Home Energy Audit and Weatherization in the State Georgia and the surrounding States, you can go to http://www.mannsenergysolutions.com or email at mannsenergysolutions (at) cox (dot) net or contact Arthur Mann at 478-718-8781 for more information.
###