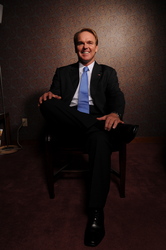 It is an unbelievable feeling knowing that I have successfully reached the line in the sand. This has been a long time coming for me since I was a competitor in the last selection process coming up just short for the 2008 team.
Warrendale, PA (PRWEB) April 15, 2011
There are two things that are always on Dan Vitchoff's mind, helping his athletes prepare for the Olympics and helping his clients achieve great personal success with hypnosis. Dan Vitchoff is a Board Certified and Licensed Hypnotherapist, Mental Training and Performance Coach and President of PA Hypnosis Center. He is also founder of the Nationally Acclaimed sports improvement technique, The 33 MethodTM.
Already known for his success helping Olympians Walton Glenn Eller and Vincent Hancock win Gold at the 2008 Olympics in Beijing, Vitchoff and his athletes have their sights set on London in 2012. Staff Sgt. Josh Richmond has now exceeded the threshold required to be nominated to the 2012 U.S. Olympic Team for the Summer Olympics in London. In a recent interview with Michael Molinaro of the US Army Marksmanship Richmond explains, "It is an unbelievable feeling knowing that I have successfully reached the line in the sand. This has been a long time coming for me since I was a competitor in the last selection process coming up just short for the 2008 team." Richmond further states, he has, "gained the confidence and knowledge to overcome the pressures of competing on the international level." Richmond credits much of his success to his family and his coaches among them, Dan Vitchoff, whom Richmond says, "has had their own foot print in my success and will continue to train me until we reach our ultimate goal of an Olympic Gold Medal."
Vitchoff explains, "When helping my athletes prepare for competition, everything counts, we prepare for everything, weather, crowd noise, distractions; I take the same approach with my food addiction clients in my office. I look at their lives and help them prepare for success no matter what personal challenges they are facing. I help them reduce stress and change their perspective on themselves, their lives and the world around them so they can take back control over their lives and develop a healthy relationship with food." Carrie Ann Johnson is an RN who has been working with Dan Vitchoff to help her gain greater control over her eating habits and behaviors. Carrie says, "I've always been the person who had to be first in line for the cookies, sweets and cakes and after my first session I no longer had any cravings or desire to eat those foods. The big test for me was being at our annual Christmas party with four trays of delicious Christmas cookies and I did not have one! For the first time in my life I was able to say, 'Wow! Those look good and walk away'." Sue Knox shared a similar experience, she was able to get through the Holidays with no pies or sweets; she had even tried hypnosis before with someone else and elaborates, "I had gone through this (hypnosis) before with someone else and it didn't work but I thought I would try again with someone new, someone different and working with Dan Vitchoff has been a completely different experience for me. I have lost over 30 pounds but even more importantly are the inches…I have lost over 22 inches! This is the least that I have weighed in 30 years! Everyone says, you look wonderful and I feel wonderful!"
If you have the opportunity to sit down and talk to Dan Vitchoff he would talk to you about how some people develop an emotional attachment to food from the time that they are infants and that bond grows stronger as they progress though their teenage years into adulthood. "For some people eating is a substitute for either an identified or unidentified emotional need. We hear it all of the time, people come in and say, 'I eat when I'm stressed; I eat when I'm anxious, I eat when I'm not hungry. 'Typically foods such as sugars, sweets and carbohydrates trigger a response of relaxation and being rewarded thus the cycle of emotional eating that can lead to food addiction. Our weight loss hypnosis programs are designed to help our clients effectively break the bond between food and emotions."
Pittsburgh radio personality, "Bubba" had been struggling with his weight off and on throughout most of his life. Just as he would start to lose weight life would get in the way and it would start to come back on. Bubba chose to work with Pittsburgh's Dan Vitchoff because of his reputation and success in working with US Olympic Athletes and because he offers a 98% Success Guarantee with his hypnosis weight loss and smoking cessation programs. Bubba shares his experience with Pittsburgh's Star 100.7 listeners on the radio, "I have tried to lose weight over the past three years, I tried everything and nothing worked, now 27 pounds later, I am part of Dan Vitchoff's 98% Success Guarantee and his 33 Method is amazing. It works if you want to lose weight or stop smoking or if you're struggling with anxiety and many other challenges."
Dan Vitchoff, MS Ed., CHt., a Board Certified and Licensed Hypnotherapist, and President of PA Hypnosis Center in Pittsburgh can individualize a hypnosis program to help his clients address the following areas: weight loss, stop smoking, reduce stress & anxiety, overcoming fears, phobias and insomnia, building self confidence, public speaking and sports performance.
For more information or to request an interview, visit http://www.pahypnosiscenter.com or contact Catie Dolgos at (724) 934-8446 or via email at hypnosismarketing (at) comcast(dot)net.
###