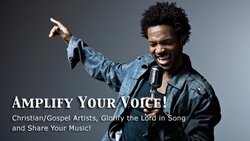 Music was created for the sole purpose of glorifying God and the highest of all of God's created angels was known for his elevated music and heavenly melodies.
Palmdale, CA (PRWEB) April 20, 2011
The Universe of Faith (UOF) welcomes, encourages and inspires all Christian/Gospel music artists everywhere who sincerely desire to see the Lord glorified in song and is willing to share their music with the world, through their Universe Of Faith Indie Music site, set to launch commercially in April 2011.
The Universe of Faith Indie Music site was inspired by its founder as a result of seeing so many artists on the densely-populated streets of Los Angeles and other major U.S. cities trying to sell their homemade music CDs to random pedestrians at gas stations, center street dividers, storefronts, parking lots, and other such high traffic, city areas. But, where does there exist, a more densely populated and accessible traffic flow than on the Internet? Nowhere! UOF may not be the first to recognize this, but they are definitely first in applying this knowledge in a format to allow Christian/Gospel artists to successfully exploit their God-honoring music without themselves being exploited.
Universe of Faith Indie Music is the first independent, Christian/Gospel artist music site of its kind, and here are some reasons why:

UOF Indie Music serves as an A/R tool, not only for the UOF Music label, but for the other major music Christian Music Labels, as well
UOF Indie Music will have worldwide, online distribution
UOF Indie Music will distribute Christian/Gospel music from artist from around the world
UOF will present their Indie Artists to the other major music labels in quarterly talent reviews
Artists manage their page and begin selling their approved music selections within days of registering with UOF Indie Music
UOF artists' music will not get buried in a sea of secular content. Unlike iTunes, Rhapsody, CD Baby and even WalMart, UOF ONLY sells Christian/Gospel music
UOF Indie Music accepts and allows all genres of music: Country, Rock, Rap, R&B, Gospel, Choir, Pop, Blue Grass, Hymns, Lounge, etc.
Artists can upload as much music as they can produce and get approved based on UOF guidelines
Artist can showcase their own music videos and network with listeners and other artists
According to Founder and CEO of the Universe of Faith (UOF), Jonathan Eubanks, "Music was created for the sole purpose of glorifying God and the highest of all of God's created angels was known for his elevated music and heavenly melodies. He also lead the choir of angelic hosts before he fell from his first estate because he wanted to march to the beat of his own "proverbial" drum. He later became known as Satan and his tunes are no longer joyful noises to God, but simply noise-meaningless anthems, dedicated to the promotion of sin and death. Most of the world's musicians now, unwittingly, have joined his proverbial "label" and many of them have received significant measures of worldly success, the praise of men, but none from God. From the Holy Scriptures, we were given the mandate on numerous occasions to make a joyful noise unto the Lord and though it is a mandate, it is likewise, a privilege. While making a joyful noise unto the Lord is a privilege and an expectation of all worshipers of God, some of us have been gifted with talent enough to make the creation of music a lifestyle choice and a potential career option. However, it is unfortunate how few gifted artists, when compared to the number out there, actually get heard, let alone, are able to make a living at glorifying God in song. The are a myriad of reasons why this is so, and chief among them has to do with what the secular music industry, at large, has convinced even Christians to believe that Artists have to compromise the message of their music by NOT mentioning doctrinal themes such a sin, repentance, hell, shedding of blood, atonement, salvation, etc. Overall, the secular music industry has shown that success in music industry now has more to do with your image than it does with pure talent and substance of your music. There are many unspeakable compromises that industry executives have compelled artists to accept if they wanted to further their careers; and many have complied with much shame and regret and others have rationalized that this is just a cost of doing business. Why, do we feel that this important for our fans and users to know? The answer is simple; UOF wants the world to know what Universe of Faith Indie Music does not stand for, as much as what it does stand for."
Jonathan Eubanks believes that "If you don't stand for something, you will fall for anything." If you are willing to take a stand in your music, UOF will make sure that it gets heard.
###