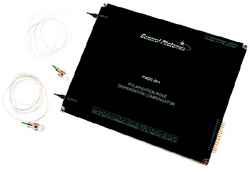 "First-order and second-order PMD problems include increased power penalties and service outage probabilities and these problems are paramount limitations in deploying 40 Gbps high-speed transmission systems," said Steve Yao, President, General Photonics
Chino, CA (PRWEB) April 18, 2011
General Photonics, a market leader in polarization control and polarization measurement, today announced its PMDBuster™ PMDC-001 multi-stage polarization mode dispersion (PMD) compensation module. It can cost-effectively eliminate impairments caused by all orders - first, second and higher - of PMD in 40 Gbps D(Q)PSK systems. The PMDC-001 eliminates the threat of PMD drift or bursts in fiber optic networks and, it is independent of modulation format and transmission speed.
The multi-stage approach of the PMDC-001 has clear performance advantages over its single-stage or 1.5-stage counterparts. This OEM module is designed to be placed directly in front of a receiver to extend system PMD tolerance range and reduce PMD-induced system outage probabilities. With an ultra-low insertion loss of less than 2.5 dB, it can neutralize the effects of first-order PMD up to 50 ps (17 ps mean) and second-order PMD up to 600 ps2. With General Photonics' proprietary reset-free tracking algorithm, the module can track random SOP variations and PMD variation in deployed 40 Gbps systems. RS-232 or I2C interface options are available for communication with network management equipment.
"First-order and second-order PMD problems include increased power penalties and service outage probabilities and these problems are paramount limitations in deploying 40 Gbps high-speed transmission systems," said Steve Yao, President of General Photonics. "The PMDC-001 is a first 4-stage optical PMD compensator that effectively mitigates first-order and second-order PMD impairments on 40-Gbit/s D(Q)PSK signals with low cost."
Summary of Technical Specifications
The PMDC-001 features an operating wavelength of C or L band, specified at purchase. SOP and PMD recovery times are 0.7 ms and 2 ms typical, respectively. The optical power range of the PMDC-001 is -15 dBm to 5 dBm. The connector type is LC/PC and others can be specified.
Pricing and Availability
The PMDBuster PMDC-001 is available immediately. Interested parties may contact General Photonics direct or a General Photonics channel partner near them for additional availability and pricing details.
About General Photonics
Founded in 1995, General Photonics is an award-winning world leader in the design and development of advanced optical polarization and timing management instruments, modules and components. Its products are used worldwide in applications such as fiber optic communications networks; test and measurement applications such as for coherent detection systems; fiber optic sensor systems; medical imaging equipment and other applications. General Photonics, a privately-held company, maintains its headquarters and a manufacturing facility in Chino, Calif. An Engineering Center of Excellence and technical support team is located in Beijing, China. The company also uses a worldwide network of sales distributors and representatives. More information can be found at http://www.generalphotonics.com.
# # #