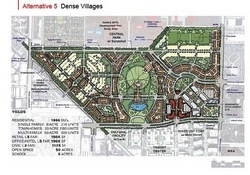 This Exchange represents a new and innovative way for the Pentagon to acquire land and facilities in a constrained federal budgetary environment." said Robert Davenport, former Pentagon attorney and current Managing Principal of Nova Property Solutions
Washington, DC (PRWEB) April 14, 2011
Nova Property Solutions and SunCal teamed up on this project which will modernize and provide new facilities to the Army following an Army sponsored industry forum that attracted more than 150 investors, contractors, developers and other interested parties. The SunCal/ Nova team was competitively selected based on its collective experience and the Army's determination that its submission was the best overall value for the Army.
Camp Parks will receive new a total of seven new mission critical facilities valued in excess of $80 million. On the 180 acres it receives, SunCal will develop Dublin Crossings, a pedestrian-friendly, mixed-use community that will connect the east and west sides of the City of Dublin. Planned as a community centerpiece, Dublin Crossings will be a transit-oriented development within walking distance of a Bay Area Rapid Transit (BART) station. This will include 1,500 new homes, parks and several hundred thousand square feet of retail, office, hotel and industrial uses.
"We're pleased to reach this important milestone so new base facilities can be built at no added cost to taxpayers." said Joe Calcara, Deputy Assistant Secretary of the Army, Washington, D.C. "This exchange represents the type of innovative public-private partnerships that will enable us to maintain top-rate facilities for our Reserve Forces for many decades to come."
Reserve Property Exchange legislation permits Department of Defense reserve components to convey real property to private parties in exchange for the selected exchange partner's construction or renovation of facilities, equipment and furnishings that equal the fair market value of the real property.
For more information please visit http://www.novapropertyllc.com.
###