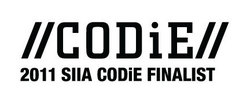 "We are honored to be recognized by the CODiEs - not only once but twice this year. This further validates our superior solution with crossover benefits in the services supply chain and extended workforce management categories."
Denver, CO (PRWEB) April 14, 2011
IQNavigator's (http://www.iqnavigator.com) industry-leading services procurement and extended workforce management SaaS solution has been recognized by the Software and Information Industry Association (SIIA) with its selection as a finalist in two CODiE™ award categories: Best Supply Chain Management Solution and Best Human Capital Management Solution. Nominees of both categories are also eligible for the Best Operations Management Solution "supercategory."
The Best Supply Chain Management Solution category includes five total finalists and recognizes the best solution for coordination and collaboration with suppliers, intermediaries, third-party service providers and customers. IQNavigator's vendor management software (VMS) solution effectively addresses the complex challenges enterprises face in their services supply chain, including compliance, quality, cost control and visibility.
The Best Human Capital Management Solution category includes six total finalists and recognizes the best software solution that automates any aspect of human resources management. The IQNavigator solution also allows efficient and effective management of the entire extended workforce – all types of non-employees such as temporary workers, consultants and outsourced personnel – for compliance, visibility, security and safety.
More than 2.5 million users from over 100 countries use IQNavigator's award-winning software to gain powerful insight into and control over the way they source services and utilize their ever-increasing non-employee workforce. For more than a decade, clients have used IQNavigator's software to more intelligently manage billions of dollars in services spend every year, resulting in dramatically lower costs, mitigation of legal and financial risks, more efficient management of supplier relationships and more strategic use of contingent labor to achieve key business objectives. It has been recognized as the top technology in the services procurement space by leading industry analysts and by a Global 2000 client base.
"We are honored to be recognized by the CODiEs - not only once but twice this year. This further validates our superior solution with crossover benefits in the services supply chain and extended workforce management categories," said John F. Martin, chief operating officer of IQNavigator. "We are pleased that our efforts and innovations to provide clients with the tools to automate and improve this key area of operations, including actionable real-time intelligence to control costs and increase quality, are once again being recognized."
One hundred thirty-one nominations from 98 companies were selected as CODiE Award finalists from among 395 total nominations. Nominated products underwent an extensive review by judges via live demonstration, trial product access and analysis of product documentation. A list of the finalists – all of whom are considered among the best in the business or education software industry - can be found at http://www.siia.net/codies/2011/finalists.asp. Finalists will be reviewed by SIIA members who will vote for the winners in the 26 categories through April 29. The winners will be announced on May 25th at the CODiE Awards Luncheon during the SIIA All About the Cloud conference (http://siia.net/aatc/2011/) in San Francisco.
The CODiE Awards, originally called the Excellence in Software Awards, were established in 1986 by the Software Publishers Association (SPA), now SIIA - the principal trade association for the software and digital content industries. The awards initially began as a way for pioneers of the then-nascent software industry to evaluate and honor each other's work. Since then, the CODiE Awards program has carried out the same purpose - to showcase the software and information industry's finest products and services and to honor excellence in corporate achievement.
About IQNavigator
IQNavigator provides software and services that help the world's best companies manage their extended workforce and procured services in a smarter way — putting the emphasis on "IQ" by giving companies powerful insight into and control over the way they source services and utilize their extensive non-employee workforce. Companies in every sector of the economy and every corner of the world are supplementing their permanent workforce with an extended workforce that enables them to leverage specialized skills, respond quickly to market opportunities, and maintain flexibility in the way they grow. Services procurement and an extended workforce present significant challenges to companies, however, in areas such as visibility, cost control and risk. For more than a decade, IQNavigator has been at the forefront of the industry in providing the software solutions and managed services that address issues inherent with services procurement and extended workforce management, turning those challenges into opportunities for companies to become more nimble, reduce risk and save millions of dollars. For more information about IQNavigator and how its industry-leading offerings are helping many of the world's most respected companies, visit http://www.IQNavigator.com.
###