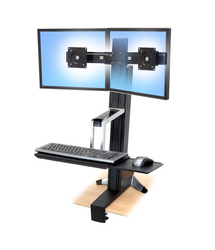 "We've received feedback from users all over the world about what would help make their WorkFit experience healthier and more productive."
St. Paul, MN (PRWEB) April 14, 2011
Ergotron, the global leader in mounting and mobility solutions, announced the launch of four WorkFit-S accessories designed to expand the functionality and comfort of its wellness enhancing WorkFit-S Sit-Stand Workstations. The accessories—which include the Tablet/Document Holder, Worksurface, Large Keyboard Tray, and Hinged Bow for displays—accommodate individual user preference in terms of workspace requirements, and integrate easily with existing installations or new deployments.
Ergotron's WorkFit-S desk mount solution helps counteract the increasingly sedentary workstyle of today's office workers by promoting health, movement, comfort and productivity. With the addition of these new accessories, user's now have added flexibility in creating an even more comfortable computing experience.
Tablet/Document Holder
The Tablet/Document Holder offers dual functionality for all four WorkFit-S configurations, allowing users to mount iPads, tablets or documents interchangeably throughout the day. The holder installs in one of three different positions to ensure a perfect fit beneath laptop or displays and includes a handle for easy up or down repositioning of the entire unit. The Tablet/Document Holder is available now for purchase at an MSRP of US$29.
Worksurface
This large, seamless surface attaches to all four WorkFit-S configurations and provides ample space for documents or other task-related needs. It includes a handle for easy height positioning of the entire unit, and helps organized and conceal keyboard and mouse cables by channeling them under the worksurface. The Worksurface is available for an MSRP of US$89.
Large Keyboard Tray
The Large Keyboard Tray is an option for anyone using larger ergonomic keyboards. This one piece tray installs centered or offset to left or right to accommodate workspace requirements, like corner desk positioning, and folds up out of the way when not in use. The unit has an MSRP of US$49. Note: All WorkFit-S units currently ship with a smaller keyboard tray configuration.
Hinged Bow
The Hinged Bow for WorkFit-S Dual Display and LCD and Laptop configurations installs on either right or left side of the unit, and gives users the ability to pivot one display back so that others can view the screen. It also enables the mounting of larger 24" displays. The unit has an MRSP of US$45.
All units are available for sale through global reseller and distribution channels.
"We've received feedback from users all over the world about what would help make their WorkFit experience healthier and more productive," said Kevin Paulson, product manager at Ergotron. "We designed these accessories based on that feedback to help give users the maximum accessibility to the data and task-related items they need. I'm enormously proud of the WorkFit line of products as they are literally changing the way the world works."
Studies in office ergonomics show productivity increases of 12%–18% when employees are provided with well-designed ergonomic furniture like the WorkFit-S, giving businesses an easy and affordable option to build wellness into the workplace. Interested enterprise customers may contact an Ergotron representative to learn more about how to obtain a complimentary WorkFit-S unit. Or, through the month of April, anyone within the United States may enter the WorkFit Sweepstakes at http://promos.ergotron.com to win the WorkFit-S configuration of their choice.
To learn more about Ergotron's WorkFit products visit http://cubelife.ergotron.com or http://www.ergotron.com or call 1-800-888-8458. For information about the dangers of sitting disease visit http://juststand.org.
About Ergotron
Founded in 1982 by VESA FDMI standard author and visionary Harry Sweere, Ergotron is a global manufacturer of digital display mounting and mobility products, headquartered in Saint Paul, Minnesota, with sales efforts in Amersfoort, the Netherlands, and Singapore. Ergotron's products have been improving the human interface with digital displays for over 25 years. Our history of innovation and passion for differentiation is evidenced in over 37 patents and our growing portfolio of award winning products for computer monitors, notebooks, and large flat panel displays and T.V.s Ergotron products enhance computing wellness, improve workplace productivity and create business process efficiencies, wherever and whenever they're used. Incorporating Ergotron's Constant Force lift and pivot motion technology, wall and desk mount arms, stands, mobile carts, pivots and vertical lifts require less effort to achieve more ergonomic motion, improving the user's experience when viewing any digital display for work or entertainment.
# # #