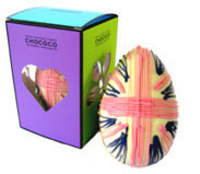 (PRWEB) April 15, 2011
Customers can choose from indulgent chocolate Easter eggs, mini eggs filled with popping candy and cute hand decorated biscuits all available to purchase at Harvey Nichols Foodmarkets nationwide and Harvey Nichols Easter gifts online.
Chococo - Chocolate Union Jack Easter Eggs
The award winning Dorset based artisan chocolate company, Chococo have created a wonderful Union Jack Easter Egg especially for Harvey Nichols. The union jack Easter egg is made from the finest Venezuelan milk chocolate and is filled with crunchy dried strawberries and raspberries. The outside of the Easter egg is a layer of white chocolate decorated with a patriotic British flag of red and blue coloured chocolate, (there are Scottish and Irish decorated eggs). It's the perfect Easter chocolate gift for any chocolate lover or loyal nationalist!
Chococo was set up in 2002 by a husband and wife led team who make fine fresh chocolates by hand using locally or ethically sourced ingredients without any preservatives to ensure the very freshest taste. Priced at £14.95.
Chocoholly Organic Easter Eggs
This organic Easter chocolate egg from Chocoholly has an exclusive Harvey Nichols design and comes in three different sizes. Chocoholly was set up by contemporary artist Holly Caulfield, three years ago after being inspired by the film Chocolat. Holly uses only the best organic products and all natural ingredients in her hand made chocolate eggs. Priced at £6.95, £9.95 and £18.95.
Lick the Spoon - Egg 'n' Spoons
This milk chocolate Easter Egg is decorated with a quirky chocolate fried egg made from white chocolate and natural orange food colouring. The Easter egg comes with three caramel filled mini chocolate eggs on lickable chocolate spoons! This product comes from the award winning chocolatiers, Lick the Spoon, set up by Creative Director Diana Short. They create all confectionary in their chocolate factory in Wiltshire. Priced at £13.95.
Harvey Nichols Own-Label Easter Chocolate Eggs
The Harvey Nichols own-label Easter egg comes in a luxurious box with a cute Alice in Wonderland White Rabbit drawing on the front. Underneath the outer layer of either plain or milk chocolate lie hidden truffles. Priced at £22.95/€23.50.
Lick the Spoon Easter Chick Shaker
This very cute hand decorated chocolate egg surrounded with yummy mini eggs comes from the award winning fine chocolate company Lick the Spoon. Priced at £7.95.
Chococo - Honeycomb Easter Egg
This delicious honeycomb egg from Chococo has been made exclusively for Harvey Nichols to create an interesting twist on the classic Easter chocolate egg. Its unusual shape will make this Easter egg stand out. Priced at £14.95.
Custom Cookie Company - Chick Cookie
These cute personalised Easter cookies come in bunny and chick shapes with an edible food marker enabling customers to decorate these Easter biscuits with a personalised message to give to a loved one. Priced at £7.95.
About Harvey Nichols:
Harvey Nichols is an international luxury lifestyle store, renowned both in the UK and internationally for the breadth and depth of its exclusive fashion merchandise. It offers many of the world's most prestigious brands in womenswear, menswear, accessories, beauty, food and home.
Harvey Nichols currently has stores in London, Bristol, Manchester, Edinburgh, Birmingham and Leeds in the UK, Dublin in the Republic of Ireland, a store in Riyadh, Saudi Arabia, in Hong Kong, China, in Dubai, UAE, Istanbul, Turkey, Jakarta, Indonesia and and a further store in Ankara, Turkey. The London flagship store is located in the heart of Knightsbridge, London's most fashionable and exclusive shopping district.
In addition to its fashion retailing business, Harvey Nichols successfully redeveloped the top floor of the London flagship store to create a Restaurant, Bar, Café, Wine Shop and Foodmarket which have become destinations in their own right. A similar concept operates from the top floors of all Harvey Nichols full-size stores.
Harvey Nichols launched its first stand-alone restaurant in 1996, the highly successful Oxo Tower Restaurant, Bar and Brasserie, with spectacular views of the River Thames. A further restaurant, Prism, opened in the financial district of the City of London in 1999.
###