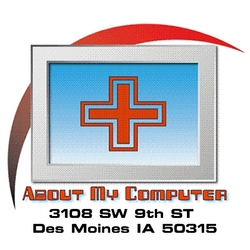 WE MAKE HOUSE CALLS!
Des Moines, IA (PRWEB) April 18, 2011
Computer repair, laptop repair, virus/malware removal and data recovery are just a few of the services offerred at About My Computer now located at 3108 SW 9th ST in Des Moines. Serving the Des Moines Metro and Central Iowa, About My Computer has the tools and knowledge to find the proper solution for many PC problems.
"We pride ourselves in putting the customer first. Not only will we do the job now, but we'll still be there for you in the future," says owner Greg Shore, "Don't wait weeks on the geeks, experience the difference with us."
If problems are not solved on site, most systems are repaired and returned within 24 to 48 hours. In today's economy hard earned dollars need to go as far as possible. With that in mind, AMC doesn't talk customers into repairs that just aren't worth it. However, should this be the case, the pros at About My Computer can retrieve data from an old pc and tranfer it to a new one.
For home or small business, AMC techs have the tools to solve almost any issue. Utilizing advanced diagnostic technologies, the proper solution is just a phone call away.
Call now 515.244.3381
###