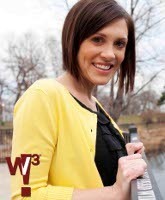 "I am thrilled to join Kale! Their 60 year company history and impeccable reputation is a perfect fit for my career vision. This is the BEST leasing and sales program in Chicago, hands-down!"
Chicago, IL (PRWEB) April 19, 2011
Kale Realty is excited to announce that Whitney Allen has accepted the position of Director of Media and Public Relations.
In addition to continuing to work on her hit NBC-Chicago Nonstop show, "Weekends With Whitney", she has joined the Kale Realty team to increase their social marketing efforts.
Whitney will be responsible for working directly with Kale's property management partners to feature their units in exclusive online videos.
She will also be a resource to Kale's leasing agents providing additional training, support, and media-friendly tools to best promote their apartment finding services.
Whitney Allen graduated from Baylor University with a degree in Communications. She has spent time in New York with Good Morning America, reported and anchored for the NBC affiliate in the Dallas area and reported at the NBC affiliate in Rockford before starting her own internet based talk show in 2008.
Her show, Weekends With Whitney, gained attention quickly and was most recently picked up by NBC-Chicago Nonstop to launch April 30th to a potential audience of 3.5 million.
Over the last year, Whitney has also been successfully assisting real estate companies develop their media marketing materials and social media presence.
President and CEO, Nick Patterson, believes, "Whitney is a perfect addition to our team, as we continue to expand our leasing and sales divisions. Her impressive marketing skills will help promote Kale with property managers, landlords, and top agents looking for a new home."
About Kale Realty:
Chicago's sixth oldest real-estate office, founded in 1951, is currently celebrating their 60th year serving Chicago and the surrounding suburban areas. Four years ago, Kale launched a flat-fee MLS service, allowing home sellers to eliminate thousands in real estate commissions. More recently Kale has launched KaleRents, which provides the most comprehensive search of available chicago apartments for rent.
# # #