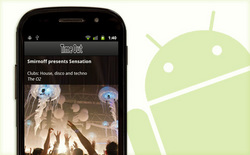 We are really excited to release our free Android app for London,' said Time Out Digital Managing Director David Pepper. 'It is a great platform, and we have seen strong demand from the Time Out audience to launch on Android
(PRWeb UK) April 17, 2011
Time Out London today announces the release of a free London mobile app for the Android operating system, available from the Android Market. Time Out London's free Android app provides users with instantaneous, up-to-date and relevant information about restaurants, bars, theatre and other inspiring ideas for going out in the British capital, without incurring roaming charges.
The app, developed in-house at Time Out, features listings and recommendations based on location, type of venue or date. Users can simply navigate through the app to determine what's going on in their immediate vicinity.
'We are really excited to release our free Android app for London,' said Time Out Digital Managing Director David Pepper. 'It is a great platform, and we have seen strong demand from the Time Out audience to launch on Android. Based on your location, the app helps you discover the best of going out in London.'
Time Out London's Android app has been developed on the back of highly successful releases of the free iPhone app, as well as paid city apps for London, Paris, Buenos Aires, Berlin and Barcelona. The free Time Out London iPhone app alone has enjoyed over 400,000 downloads to date, and similar success is expected with the Android version.
Time Out has experienced significant digital growth in recent months, introducing various new products including the Time Out online blog, now.here.this, and My Time Out, as well as the mobile apps. Plans to continue this growth with new products are set for 2012.
Visit http://www.timeout.com/mobileapps or call Madelaine Bennett on 020 7813 6180 or Erin Muller on 020 7692 6362 or email publicrelations(at)timeout(dot)com for further information.
About Time Out
Time Out is the definitive source of essential information, recommendations and bookings for going out in over 50 of the world's major cities.
We provide 18 million locals and travellers worldwide with independent, up-to-date and accurate information through our website, travel apps, magazine, city guides and live events. Wherever you find Time Out, you'll find the very best that city has to offer.
For exclusive offers, competitions, recommendations and bookings visit: http://www.timeout.com/london
# # #