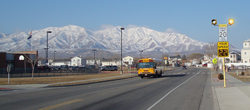 Now that there are more low-cost options to protect students and faculty, they are eager to provide safer roads in and around their campuses."
Spring Valley, NY (PRWEB) April 16, 2011
The first quarter of 2011 had a surprising trend for Traffic Logix. While municipalities, HOAs, work zones, parks, and military bases have continued to show interest in the company's traffic calming solutions, the school segment has seen unusual growth. Sales for the first quarter of 2011 were more than double any other quarter in 2010.
"The reason is simple," said Craig Timothy, the company's Vice President and Director of Development. "University and school campuses have long seen pedestrian safety as a priority. Now that there are more low-cost options to protect students and faculty, they are eager to act and provide safer roads in and around their campuses."
With 81.5 million schoolchildren (US Dept of Education) and over 18 million college students (National Center for Education Statistics) attending classes each day across the nation, it's understandable why safe routes are such a priority.
A recent National Highway Traffic Safety Administration (NHTSA) study on pedestrian fatality and injuries found that traffic accidents that involve pedestrians are more likely to occur between the hours of 6 to 9 am and 3 to 6 pm- the hours when children and young adults are traveling to and from school. Keeping roads safe in and around schools can help save lives.
The Federal Safe Routes to School Program offers schools funding and resources to help make the route to and from school a safer one. Solutions include education, enforcement, and engineering. A crucial part of engineering is the installation of traffic calming solutions to encourage cars to slow down.
With the introduction of the SafePace 100 last summer, schools had a new lower-cost traffic calming option to protect their roads. The new signs are portable, energy efficient, optimally visible, vandal resistant, and most importantly, economical. Priced low enough for even the most limited budget, the sign has seen enormous success amid a sluggish economy. The signs are equipped with easy to use software and calendaring capability, on-sign programming, and optional data collection, solar power, and up to four week battery performance.
Both the SafePace 100 radar sign and the full size Traffic Logix radar signs are available with a school zone beacon system specifically designed to alert drivers in school zones. Used in conjunction with the signs, the beacons ensure that drivers are alert and aware that they are driving near a school. In fact, the recent Safe Kids study http://www.safekids.org/assets/docs/ourwork/research/distracted-drivers-report.pdf found that drivers were less likely to be distracted in school zones that had flashing lights.
The Traffic Logix recycled rubber speed cushions are also a popular solution for schools. Designed as three small speed humps installed across the width of the road, speed cushions are both emergency friendly and cost effective. The cushions are installed to accommodate the wider wheel base of emergency vehicles so that they can straddle them without being impeded. Since they use less units than speed humps or tables, they offer a more affordable solution.
Rubber traffic calming solutions such as speed cushions seem to be more popular with universities and have been installed on several campuses including Texas A&M University and UCLA (The University of California, Los Angeles). Schools and school districts seem to prefer the low cost radar options such as the Safe Pace 100, which has been installed in several school districts including Edgartown, MA and Sultan school district in Washington. The Sultan school district used Safe Routes to School funds to purchase their signs.
School districts and universities often have limited funding, leaving administrators wondering how they will afford to install traffic safety solutions. Faced with the importance of student safety and the economically priced Traffic Logix solutions, schools may now have to ask themselves: can they afford not to?
Traffic Logix is the only company of its kind offering a complete toolbox of radar and rubber traffic calming solutions, including many cost effective options. To learn more about how Traffic Logix can help protect your streets, visit http://www.trafficlogix.com.
# # #