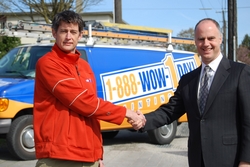 "Getting a business to the point where it's not only self-sustaining and saleable, but attracts attention from big players is the fun part for us," says Mark Wardell
(PRWEB) April 18, 2011
When Brian Scudamore, President of 1-800-GOT-JUNK?, recently hired a company to paint his home he was so impressed he bought the business.
That's the whirlwind story behind 1-800-GOT-JUNK's brand new sister company, 1-888-WOW-1DAY!, a fresh face offering a big promise: to paint your entire home in one short day.
Formerly known as One Day Painting, this clever business idea began as little more than that — a great idea.
The real transformation happened when Founder Jim Bodden enlisted the services of Vancouver-based business advisory firm Wardell Professional Development. Wardell worked with Bodden to turn his great idea into a fully scalable, saleable enterprise, catching the attention of 1-800-GOT-JUNK? and inspiring the global company to expand its already lucrative brand.
"Getting a business to the point where it's not only self-sustaining and saleable, but attracts attention from big players is the fun part for us," says Mark Wardell, President of Wardell Professional Development. "The behind-the-scenes work that goes into this type of transformation isn't always headline-grabbing — until, of course, the sale happens."
Bodden explains: "I came to Wardell with little more than a great business idea. Wardell helped me put in place the operating structures, systems and financial structures I needed to become a business with marketable value. They even negotiated the sale."
"1-888-WOW-1DAY! is sure to revolutionize the home painting industry," states Brian Scudamore. "The new business is a great fit for our existing brand, and already well on its way to becoming a household name."
Wardell Professional Development is a Vancouver-based Business Advisory Company that helps organizations across Canada and around the globe re-think, re-build, and streamline practices toward more profitable, self-reliant, and growth-sustaining futures. http://www.wardell.biz
# # #