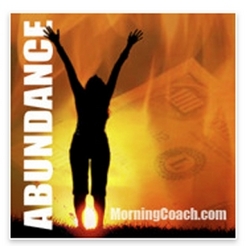 The path to self-discovery starts here.
Fort Lauderdale, FL (PRWEB) April 19, 2011
MorningCoach.com has been the number one source of daily personal development for thousands around the world since 2008. To support the exponential growth of subscribers and users, MorningCoach.com has made a tremendous investment to improve website functionality and the overall user experience. In addition to their top-rated daily "CoachCast" podcast on iTunes, MorningCoach.com is introducing new and improved cutting-edge tools and technology never before seen in the self-help arena. It is a step forward that has now positioned MorningCoach.com as the leading online personal development resource worldwide.
"For the past three years, I've been producing a podcast that promotes positive thinking and action in small, incremental steps to improve people's lives. To complement the daily CoachCast, we offer goal setting tools that support our members on their path toward self-improvement," stated JB Glossinger, the founder of MorningCoach.com.
Integrated online tools such as the downloadable Daily Compass workbook, engage users by taking them through a series of introspective questions aligned with the days CoachCast topic. JB states, "The Compass really cements the learning and serves as an incredible springboard for new ideas."
JB's positive daily message of moving forward by improving one-percent every day, applies not only to MorningCoach.com members, but is applied by the company itself. The launch of a new and improved website solidifies the message that Morningcoach.com not only offers value and excellence, but leads by this example.
"Although we are already doing something very unique within our industry, we still felt compelled to take it up another level and not be complacent. We are truly passionate about what we do and genuinely want our members to have a top-notch experience," stated Luis Rosario, Director of Communications and Event Relations at MorningCoach.com.
MorningCoach.com has achieved a global reach of over one hundred countries since its inception, and continues to increase their outreach to achieve create greater consciousness and dynamic living through positive daily life coaching on universal topics.
JB adds, "It has taken tremendous dedication and many small steps to get to this high-level of producing quality content on a consistent basis. We have produced over 1,100 CoachCasts and we're just going to keep getting better and better."
For more information about the MorningCoach Personal Evolution System, please visit MorningCoach.com. If you are a meeting planner interested in booking JB Glossinger as a speaker, please contact Luis Rosario at 1-800-277-0498 or Luis(at)morningcoach(dot)com. For more information on JB Glossinger, please visit Glossinger.com.
About MorningCoach.com
MorningCoach.com is the world's first and largest personal evolution website, bringing you the best in personal development, life coaching, self-help, self-improvement, goal setting, and positive thinking. Along with the top-rated daily 15-minute CoachCast podcast, MorningCoach.com offers inspiration and a variety of integrated tools to help you form a dynamic personal growth support system. MorningCoach.com teaches you how to plan and execute and gives you the daily support you need to identify and accomplish your goals and dreams. It's easy to manifest the life experience you desire with our free 7-day trial. Visit MorningCoach.com and enter the code ABUNDANCE to get started on your path to greatness!
###