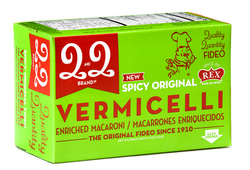 Spice Blended into the the Vermicelli, No Flavor Packs to have to Deal With
Fort Worth, TX (PRWEB) April 16, 2011
Spicy Original starts with the same recipe as the Texas pasta company's original Fideo, which is the nation's #1-selling vermicelli made in the United States. The fresh, subtle flavor is then kicked up a notch with a special blend of spices from REX Fine Foods, a 122-year-old New Orleans company known as "King of Spice."
Q & Q uses secret flour and drying process to integrate the flavors right into the pasta. The unique process ensures the flavor is not cooked out when prepared, providing a robust taste without the use of a spice pack.
"We're excited to be spicing things up a bit, to say the least," quipped Gene Ratliff, CMO of Q & Q's parent company O.B. Macaroni. "We also believe what has been a staple in Hispanic kitchens will gain even broader appeal as foodies search for more authentic cultural foods like Fideo."
Spicy Original Vermicelli will continue the company's longstanding commitment to providing superior quality that is very affordable. The new Spicy Original Vermicelli will be sold at most grocery and mass stores throughout the southwest.
About O.B. Macaroni Company: O.B. Macaroni is based in Fort Worth, Texas, and has been making quality pasta products continuously since 1899. Q & Q Vermicelli, the original Fideo, is a popular product that O.B. (which stands for Our Best) began making in 1910. It has been particularly strong among the Hispanic market, where it enjoys an 82% share in the southwest, and 42% share nationally.
O.B. Macaroni was acquired by JGR Enterprises LLC, a local Fort Worth company, after four generations of operation by the Laneri family. O.B. Macaroni produces millions of pounds of pasta each year, including spaghetti, linguini, fettuccini, penne, rigatoni, vermicelli, and more.
For more information or to schedule an interview, contact Gene Ratliff O.B. Macaroni Company, Phone: 817.335.4629
###