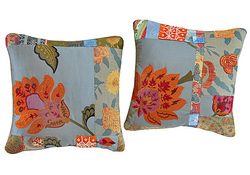 Hobe Sound, FL (PRWEB) April 26, 2011
Over the years Interior Designer Kathryn Schumacher has amassed a treasure trove of fabrics, trimmings and other embellishments from around the world. Until recently, her impressive handmade decorative pillows were available only to clients as custom designed pieces. They are now available to the discriminating consumer and the interior design trade.
Kathryn's passions for sewing, design, photography, and travel come together in this wonderfully unique presentation of one-of-a-kind home accessories. Her keen eye and artistic sensibilities combine to make these unique pillows a visual delight for home decor.
We are proud of the fact that all of our pillows are sewn in the USA with precise attention to detail. "Mediterranea" is the newest of the five collections represented on the site. The patterns, fabrics, colors, and textures are a creative culmination inspired by her recent travel to Turkey and Greece. Kathryn states "Visually I'm continually influenced by line, color and the fine art of collage."
These marvelous and inventive pillows are sure to surprise and delight the most discriminating consumer and design professional alike. We invite our guests and trade colleagues to visit the website and register with us to stay current with our continually changing and evolving pillow collections.
Kathryn divides her time between her California and Florida design studios and travels with her beloved Scotties.
For further information contact:
Susan Chandler
Operations Manager
http://www.kathrynschumacher.com
###