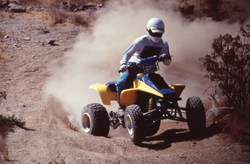 Quality, dependability and cost are hallmarks of our products. Nothing is more frustrating, or potentially dangerous, than getting miles from the road or boat dock to discover you have a faulty battery or marine battery charger. - Darren Somerville
Grants Pass OR (PRWEB) April 16, 2011
Darren Somerville, founder of Impact Battery, reports the company is geared up to help outdoors enthusiasts shake off the winter blues and get ready for warm weather fun. The company sells a large line of batteries and battery chargers for an assortment of recreational vehicles.
"Impact Battery knows that harsh winters are not just hard on people, but on their equipment as well. One of the most common casualties of winter storage in idle vehicles is the batteries; they become vulnerable to freezing that causes internal damage as well as losing their charge and sulfating," said Somerville.
ImpactBattery.com offers an extensive list of products and brands to service a variety of utility vehicle. This includes:

Motorcycle and Scooter Batteries
ATV and Personal Watercraft Batteries
Marine and RV Batteries
Golf Cart and Marine Battery Chargers
Converters and Inverters
Solar Panels and Maintenance Chargers
Some of the brands offered include:
Universal Power Group
Noco Genius
MotoBatt
Lifeline
CTEK
Duel Pro
PulseTech
According to Somerville, "Quality, dependability and cost are the hallmarks of our line of products. Nothing is more frustrating, or potentially dangerous, than getting miles from the road or boat dock to discover you have a faulty battery or marine battery charger. We help people avoid these situations by providing the best products in the marketplace for our customers."
Impact Battery offers more than just recreational and motorcycle batteries. They also operate the IMPACT Community Program that donates a percentage of every sale to local charities as a way of giving back to the people that support them. The program works with charities, schools and other organizations to assist them with fund raisers. The best part, Impact's customers choose to which charity Impact will donate.
"Everyone uses batteries. Why not support your favorite organization with a portion of the proceeds at the same time? We're glad to talk with anyone about their fund raising goals and see if the IMPACT program is a fit for their group. Information is available on our website," according to Somerville.
To learn more about Impact Battery or arrange an interview with Darren contact:
Impact Battery, A Division of the Benevolence Group
2088 Robinson Road
Grants Pass, OR 97527-9282
Darren Somerville
866-668-3163
http://www.impactbattery.com
# # #