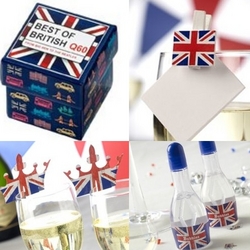 Royal Wedding Fever has sparked a theme for 'Cool Britannia' Favours that every guest can take away with them and treasure.
(PRWEB) April 17, 2011
Fabulous Favours is a leading supplier of party and wedding favours in the UK. With the nuptials of Prince William and Miss Catherine Middleton fast approaching they've noticed that Royal Wedding fever has well and truly gripped the nation and sparked a re-ignition of Cool Britannia pride.
The dress, flowers, bridesmaids and guests have all been under intense media speculation and as the date gets closer the focus is now on the more intricate details of the day, especially what type of Wedding Favours they will be presenting to their guests.
It is these little touches that make every wedding, whether it is Royal or not, personal and create the memories that every guest can take away with them and treasure.
The giving of wedding favours is a tradition that has evolved over many centuries into the practice we all know today. The Bride and Groom give favours to thank all of their guests for sharing their special day with them and we can be sure that whatever the Royal couple give it will have a huge impact on all the favours given this year and the year after!
Wills and Kate, as they are affectionally known, are a young couple and the speculation has been that because of this they might have a modern take on how they want their guests to remember their big day.
Prince William is a well know patron of many charities which has been reflected by the couple's decision to replace a traditional gift list with a selection of charities they would prefer donations to be made to instead. Jodie Horton, Operations Director of Fabulous Favours speculates that the theme of charitable donations might run throughout their big day and favours would be one way of carrying on this theme.
She goes on to discuss the popularity of specific ranges of Eco-Friendly and Biodegradable Favours now available, which make unique and unusual gifts. As the audience of the Royal Wedding is estimated to be over two billion it would be the perfect way to send a thoughtful message to everyone to think about the important issues that are present every day worldwide.
One of the most popular items sold by Fabulous Favours is the recently released Pink Ribbon Breast Cancer Charity plantable favours. Once these favours are planted they blossom into beautiful, bright wildflowers which will make a touching reminder for guests of the special day they were a part of and the important cause that the favours support.
Fabulous Favours has seen demand for it's "Best of British" range skyrocket as the Royal Wedding date gets ever closer. Jodie comments upon how the public have rediscovered their national pride and hopes that that the wedding will incorporate the colours of the Union Jack into the day.
With nostalgic street parties reminiscent of VE day celebrations being planned up and down the country - Red, White and Blue bunting is already being hung from John O Groats to Lands End in anticipation this historic event. Fabulous Favours introduced a range of fun British items to inspire party organisers and leave those that attend with a small momento of the day. From simple table decorations such as the sparkling silver crown confetti (complete with red, white and blue crystals) to fun table games such as the Best of British Table Trivia, Fabulous Favours have everything you need for a truly "British" party.
Even though nobody knows the exact details of what favours Miss Middleton will pick out for her big day one thing is certain - the majestic finish favours can add to every wedding, party or celebration. As the party fever increases across the nation there has never been a more perfect time to celebrate the Best of Britain. Fabulous Favours has all that you could need to add that extra special something to your event making sure your guests will never forget an incredible day.
# # #