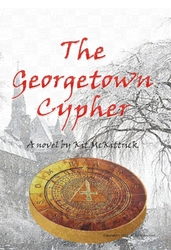 This is an amazing read. Great characters and an exciting story.Time travel, spirituality and a little 007 intrigue, I don't know how Ian McAlester had time to fit all these adventures in,Can't wait for the next book, this one really left you wanting more
Boynton Beach, FL (PRWEB) April 17, 2011
In the opening pages of McKittrick's novel, The Georgetown Cypher, entrepreneur Ian MacAlester finds himself having to testify against the most powerful people on the globe. In an attempt to put his life back together, Ian uncovers one of the greatest secrets in human history. He is aided by a mysterious woman who shows him the power of guided meditation and the arduous task of laying out one's life in a way that shows what the soul needs rather than what the ego wants.
In The Georgetown Cypher, Ian uncovers the ultimate business model. For the church; power and money; for sovereignnations; control over their populations and for the parishioners, their immortal soul. The concept; "pay to pray;" the methodology; conspiracy conceals, murder protects and sex satisfies!
"I wanted to provide a thriller that blends historical fact with an insight into meditation and Life Cyphering," says McKittrick. "My novel asks questions about an individual's life purpose and contrasts it with the motivations behind some of the world's most powerful institutions."
The book is available in eBook on Amazon, Barnes and Noble and Google Books. Soon in iBookstore. It is also available in print on Amazon, Barnes and Noble and The Georgetown Cypher Website.
# # #