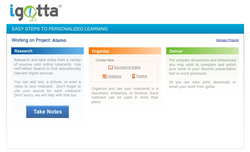 "The potential of igotta to teach our 21st century learners is endless," explained Karry Simmel, Assistant Principal at the Pennsylvania Cyber Charter School, which has been piloting igotta this spring.
Cincinnati, OH (PRWEB) April 15, 2011
igotta, a new product from netTrekker, provides a virtual workspace, unlike any other on the market, for students to find, analyze, organize, and use information to complete a wide-range of school assignments, while developing the skills they need to be college and career ready. With the release of igotta, netTrekker provides a complete portfolio of integrated products and services that bring digital resources and student productivity tools into the classroom in a safe, relevant and engaging way, making it faster and easier for schools to offer personalized learning experiences for students.
igotta is designed to help students develop 21st century skills such as information literacy and critical thinking, while completing reports, writing assignments, presentations, studying and other project work. Students learn how to take notes, cite sources properly, conduct research, organize their thoughts, paraphrase information in their own words, incorporate multimedia, and more. According to research conducted by Tony Wagner, co-director of the Change Leadership Group at the Harvard Graduate School of Education, professors, business executives and military leaders list critical thinking and problem solving, effective oral and written communication, accessing and analyzing information, and adaptability among the seven essential skills students need to be successful.
"The potential of igotta to teach our 21st century learners is endless," explained Karry Simmel, Assistant Principal at the Pennsylvania Cyber Charter School, which has been piloting igotta this spring. "igotta will help our students develop a variety of skills, including researching, knowing what information is important and what isn't relevant to their projects, taking effective notes and building well organized outlines, and gathering their thoughts to develop their written response. I can even see our students using it to develop better study skills. This program is truly a benefit to the 21st century learner."
igotta supports project-based instructional goals and methods, providing students with the framework and guidance to complete independent projects.
When combined with the company's complementary product, netTrekker, igotta enables students to safely access the content they need and complete their school assignments and projects through one integrated solution. Students improve their productivity by spending less time searching for relevant resources and keeping track of all the pieces of their assignments.
netTrekker offers more than 300,000 safe, educator-reviewed digital resources from around the Web and from partner offerings that are aligned to standards and span the entire K-12 curriculum. Resources are categorized by standard, grade level, reading level, media type, and more. With Universal Design for Learning and a variety of innovative features designed to support personalized instruction, netTrekker enables teachers to support every student's individual needs to help them succeed. Teachers can bookmark, organize and share resources, as well as assign them to students for project-based learning assignments, which they can complete through igotta.
"igotta is the first in a series of new 21st century solutions from netTrekker to empower both teachers and students to master evolving school curriculum and meet the demands of the digital age," said Randy Wilhelm, CEO of netTrekker. "We're developing tools that will help prepare students for their future careers, because as a business that is currently looking to hire innovative leaders to support our expansion and growing product line, we understand the skill sets that students need to be successful beyond graduation."
Based on industry reports and internal company research, educators are increasingly looking for products and services that enable them to easily and quickly locate engaging resources that meet students' individual needs and adapt their classroom lessons to improve student outcomes. netTrekker is one of the pioneering leaders of this movement in the education market through it's proven flagship product and an expanding suite of tools and partner offerings that are unmatched in the industry.
igotta was developed by netTrekker in partnership with Zeus Learning. For more information, visit http://www.netTrekker.com/igotta.
About netTrekker
netTrekker is dedicated to enhancing education through highly effective technologies and services that enable schools and educators to personalize learning and inspire students. The company is a leader in the organization and delivery of digital K-12 educational content. The company's flagship product, netTrekker, is one of the leading educational tools in the industry, and was first to market with a standards-based solution utilizing the services of Academic Benchmarks, the premier provider of comprehensive standards-based K-12 educational databases, alignment tools, and integration products. netTrekker provides access to more than 300,000 safe, relevant, educator-reviewed resources to support students' individual learning needs. netTrekker Global Services supports publishers and education agencies through the transition from print-based to digital learning content through a customized technology and service offering. Peers, teachers and parents have honored netTrekker more than 25 times for its contribution to education. Founded in 1999 by Robert Reinders, the company serves millions of students and thousands of schools around the world.
# # #