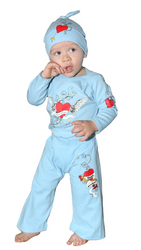 "We at Lalilu think that there is little choice for boys clothing in terms of color, styles and the expression of art, and we're working hard to accomplish a new fashion trend", said Diana Gailing, Founder and Chief Designer for Lalilu.
Los Angeles, CA (PRWEB) April 17, 2011
Lalilu announces its debut of their new organic cotton children's wear for little boys and girls, ages newborn to 10 years old.
The Lalilu product line includes custom hand-painted nursery artwork, accessories and luxury silk crib bedding.
Lalilu at http://www.laliluusa.com is a children's apparel brand, and children's product design company founded in 2008 by CEO and Chief Designer, Diana Gailing. The company was founded on the principles that kids clothing should be comfortable and practical yet stylish and fun in the most eco-friendly way. With special focus to bring back the innocence in little boys fashion that seems to be lacking in todays market.
Lalilu offers a new collection of modern and sophisticated apparel for young children that isn't limited by traditional color and motifs. The designs are unique and whimsical and exhibit simplicity and style.
From tiny angel wings to race cars to the brand's signature angel crest logo. Printed on premium quality, super soft interlock cotton and 100% certified fair-trade organic cotton. The collections includes long and short sleeved infant bodysuits, coordinating yoga style pants, toddler tees, thermals and dresses.
Lalilu offers a beautiful selection of coordinating knot hats, bibs and receiving blankets.
The brands clothing collections are for boys and girls and range from newborn to size 10.
The collections retail at $14 to $69 USD.
Lalilu is dedicated to manufacturing in an environmentally sustainable and ethically conscious manner.
All garments are proudly made in the USA.
The company just recently included a full line of nursery and children's artwork, accessories and luxury silk crib bedding into its collection.
The collections are designed to coordinate with and complement each other. Heirloom quality artwork feature paintings and embellishments on canvas. Quality and attention to detail are paramount in each product, and each hand-painted item is skillfully crafted with greatest care and dedication. The colors are carefully chosen to create harmony, and to interpret and give life to each motif and theme, whether of singing birds, butterflies, bees, flowers, sweet bunnies in the garden, dreamy teddy bears, and sweet little angels. Classic or contemporary designs complement each other. The designs are wonderful addition to a nursery or a child's bedroom. All of the designs will grow with a child from infancy to toddler hood and beyond.
The paintings retail at $120 to $375 USD.
For more information about Lalilu, please visit the company's website at http://www.laliluusa.com.
About the Founder
Diana Gailing is the Artist/Children's Wear Designer behind the brand "Lalilu".
Diana was born and raised in a small town near Frankfurt, Germany. She still returns to visit her family who live in the countryside frequently. Her very grounding upbringing and her love of nature are inherited from her parents. With her love for children and a passion for all things green, Diana is on a mission of making the world a better place for our children. Lalilu was born to share her focus with parents throughout the world.
Diana is also the proud mother of four children, two boys and two girls, who are all Lalilu models.
"Lalilu is a reflection of my life long passion for art and design. My own children are my biggest inspiration, my memories, and my dreams as they come to life through my art," she says.
Diana maintains her office and design studio near Los Angeles, CA, where she oversees Lalilu business operations and her website http://www.laliluusa.com.
The Brand's Mission
To inspire new parents worldwide to celebrate childhood, to incorporate past fashion trends with future trends, and to remember the importance of innocence and sweetness in every child.
# # #