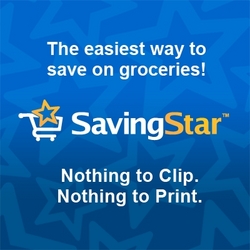 "SavingStar is bringing grocery coupons to the digital generation whose computers and smartphones are becoming an increasingly valuable part of their lives," David Rochon, CEO of SavingStar.
Boston, Mass. (PRWEB) April 18, 2011
Shoppers looking for easy ways to save money can use a new service called SavingStar to help them save on grocery and drugstore items without the need for paper coupons. SavingStar's eCoupons are entirely digital, meaning there's nothing to clip and nothing to print, and they work at over 20,000 stores nationwide. SavingStar also empowers shoppers for the first time to choose how they save, with a variety of payout options for their savings including cash, gift cards, and charity donations. The company launched today offering over 50 eCoupons, worth over $50 in savings on name-brand items including Bounty, Charmin, Heinz, and Welch's. Consumers can select the eCoupons they like on the company's free iPhone® or Android® apps, or on the company's website, savingstar.com, which launches tomorrow. SavingStar links the offers to each user's registered grocery and drugstore loyalty cards from nearly 100 retailers nationwide: from Albertsons and CVS/pharmacy, to Wegmans and Winn-Dixie.
How SavingStar Works
SavingStar is free to use. With over 20,000 supermarkets and drugstores in the service, SavingStar has the largest network of retailers enabling digital coupons in the country, over three times larger than alternatives. Users choose which eCoupons they want and when their store loyalty cards are swiped at checkout, the money is automatically added to their SavingStar accounts (rather than being deducted at the register). Users can then pick their preferred payout – from direct deposit into any bank or Paypal account, to an Amazon gift card, to a donation to the charity American Forests to help plant trees. More payout options are coming soon.
"Consumers love to save but want an easier way to do so, and SavingStar provides the answer," said David Rochon, CEO of SavingStar. "The process is simple and can make a significant impact on the amount of money a household saves each month."
A New Generation of Savers Looks for Flexibility in How and Where to Save
SavingStar eCoupons are not your mother's coupons. Since they are fully digital, there is no paper required. They are also more convenient for people frustrated with the hassle of clipping, printing, and carrying paper coupons to the store. "The next generation of shoppers may have never clipped a coupon in their lives but they clearly have the desire to save, as evidenced by the explosion of discount sites like Groupon," said Rochon. "SavingStar is bringing grocery coupons to the digital generation whose computers and smartphones are becoming an increasingly valuable part of their lives. At the same time we are giving passionate coupon users more grocery offers to take advantage of, with the added bonus of empowering shoppers to pick their preferred form of savings."
While other digital services only work in a limited number of chains, SavingStar allows shoppers to save with nearly 100 retail chains nationwide, giving shoppers a choice in where they redeem their eCoupons.
Noted coupon expert, Stephanie Nelson, founder of CouponMom.com agrees that paperless coupons will appeal to today's "online all the time" consumer." "People are busier than ever, and since SavingStar eCoupons are easy to use, they're a great way for people to save on grocery and drugstore purchases."
Because SavingStar eCoupons are linked to store loyalty cards, the service eliminates time spent clipping or printing coupons, piles of coupons accumulating in a kitchen drawer, lines being held up while shoppers dig through a wallet or purse, and people forgetting to bring their coupons to the store. Using SavingStar's mobile apps, shoppers can select eCoupons while walking the aisles, making it easy to save even while in the store.
A Growing Demand
SavingStar's launch comes at a time when the demand for online coupons is growing. In 2010, more than 49 million people used printable or digital coupons up from 40 million in 2009, according to Simmons Research.
SavingStar partners include leading national retailer, CVS/pharmacy. "CVS/pharmacy's ExtraCare program provides personalized value to our customers by making it easy for them save money every time they shop," said Melissa Studzinski, Vice President, Customer Relationship Management for CVS/pharmacy. "We remain committed to providing today's tech savvy customer with new ways to save. SavingStar eCoupons now allow our customers the option of linking the eCoupons they select right to their ExtraCare card, giving them an additional way to save while shopping at CVS/pharmacy." Shoppers can redeem SavingStar's eCoupons at any of CVS/pharmacy's more than 7,100 stores.
"We know that consumers value the ability to build their savings through everyday purchases," added Rochon. "In today's economy, we see an opportunity to expand the use of grocery coupons and drugstore coupons to help people save, whether in the form of cash, gift cards, and more."
To obtain B-roll footage, download it at http://bit.ly/SavingStarBroll
About SavingStar
SavingStar is the first and only national, fully digital, grocery coupons service, available for free at savingstar.com and on iPhone® and Android® mobile apps. The company enables consumers to choose where they shop and how they save. Providing exclusive eCoupons redeemable at over 20,000 stores, SavingStar's eCoupons are linked to customers' grocery and drugstore loyalty cards and offer a more convenient and eco-friendly way to save on groceries than paper coupons. SavingStar automatically adds the value of each eCoupon redeemed into the user's SavingStar account, enabling the consumer to pick their payout from cash back to gift cards to charity donations. SavingStar also powers Upromise Grocery eCoupons, helping its over 13 million members save for college. SavingStar is backed by Flybridge Capital Partners, First Round Capital, and other investors. The company is based in Waltham, MA.
###