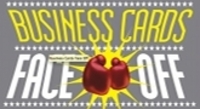 State College, PA (PRWEB) April 18, 2011
Michael Wittmeyer of BusinessCards.org pitched eight top business card printing companies against each other to discover the leaders! In this revealing Business Cards Face-Off, he visited each company's web site, uploaded a design, ordered business cards, and then compared the final product from each printer. Note that none of the companies reviewed paid BusinessCards.org, gave them free business cards, or showed preferred services, etc., in order for him to perform the study—the services reviewed were the same routine services anyone could expect to receive as an ordering customer.
For the Business Cards Face-Off, the following eight contenders were ranked on a viewable scorecard based on a number of criteria including cost, extra charges, card sturdiness, print quality, shipping services, delivery time, and the print sizes available:
123Printing.com
Allbusinesscards.com
Greatfxbusinesscards.com
Moo.com
Overnightprints.com
Uprinting.com
Vistaprint.com
Zazzle.com
His scorecard results were tallied into three champion categories as follows:
Overall Winners: Overnightprints, Greatfxbusinesscards, and Uprinting.
Lowest Cost: Uprinting, Allbusinesscards, and Greatfxbusinesscards
Fastest Service: Allbusinesscards, 123Printing, and Overnightprints
On a 100-250 minimum business-card order, the three overall winners averaged a cost between 12 and 44 cents per business card (between $19 and $34 per thousand cards), used a minimum of 14-pt quality durable card stock, offered free UV coating, and took only 6-8 days to ship the order.
For someone in search of a professional printer, Michael Wittmeyer believes the results of the Business Cards Face-Off are critical! These results include a Contenders Scorecard, Mug Shots, and Champions. This quick glimpse compares each online business card printer side by side, reviews their scores, and displays an image of the actual business card shipment upon arrival and still in the box! Michael Wittmeyer has also done the homework for new customers! To examine the details of the ordering experience AND view a video of the online ordering process for each business card printing web site, visit the BusinessCards.org Review Center. He challenges you to read and review these eye-opening results before selecting a professional printer and placing an order.
Per Michael Wittmeyer of BusinessCards.org, "The business card printer winners stack up very well." As a new online business card printer on the block, he believes this experience to be invaluable in working toward become a leading source for premium business card design where all of these services will come together—competitive high-quality products with excellent turnaround time at a fair price.
For more information about the results of the Business Cards Face-Off, contact Michael Wittmeyer.
###