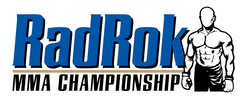 Having over 40 years of combined experience in the mixed martial arts world means that we know what it takes to bring great fights to MMA fans
Pompano Beach, FL (PRWEB) April 19, 2011
The nation's premier mixed martial arts promoter, RadRok MMA Championship, brings an exciting night of fighting to South Florida's MMA community. RadRok Championship 2 will showcase 20 different championship contenders during ten separate cut-throat bouts at the Coral Springs Center for the Arts on May 13, 2011.
The main event will pit WEC veteran, Brazilian Jiu-Jitsu black belt and owner of American Top Team of Deerfield Beach, Rafael Rebello against Strike Force veteran, wrestling and boxing specialist Tito Jones of MMA, Inc. With nearly identical records between the two fearless opponents, this main event is as closely matched as you will see in today's MMA competitions. Each fighter's championship hopes rest on making it past the other, so with everything on the line, both Rebello and Jones will be relentless in their quest for a win. To get in-depth with RadRok and all of the fighters participating in RadRok Championship 2, head over to Facebook.com/RadRokMMA.
"Having over 40 years of combined experience in the mixed martial arts world means that we know what it takes to bring great fights to MMA fans," said Bob DeLuca, co-owner of RadRok MMA Championship. "By selecting the right partners in South Florida from the start, we'll be providing the best possible fight experience to all MMA fans in the area. RadRok's goal is to offer South Florida MMA fans what they deserve – world-class MMA events featuring today's top challengers and tomorrow's champions."
Due to overwhelming response to RadRok Championship 1, attendance to RadRok Championship 2 will be limited to the first 1,500 fans on a first-come first-serve basis. Tickets to this no holds barred feature event start at just $25 and can be purchased at RadRokMMA.com right now. Doors at the Coral Springs Center for the Arts will open at 7:30 p.m. on May 13, 2011. The venue features a state of the art audio/video system, theater seating and a huge overhead screen that is designed to bring everyone as close to the action without being in the cage. Those who cannot take part in the excitement locally can follow the fight on Fight Zone TV which is broadcast on FOX Sports Net to over 47 million homes. Check your local listings for more information on local times and availability. For comprehensive coverage of any and everything RadRok, visit Facebook.com/RadRokMMA.
RadRok Championship 2 Fight Card:
Main Event: Rafael Rebello vs. Tito Jones
Co-Main Event: Nicolae Cury vs. Rocky Shallcross
Main Card: David Zitnick vs. Felix Lopez
Luciano Macarrao vs. Travis Cox
JP Reese vs. tbd
Sam McCoy vs. David Bagget
Undercard: Giovanni Brugnoni vs. tbd
Bob Edwwards vs. tbd
Michael Quinones vs. Tim Palmer
Fred Lanna vs. Robb Chadwick
Marcel Gonzalez vs. Alex Carrion
About RadRok MMA Championship
Bob DeLuca and Roger Krahl, owners of RadRok MMA Championship, have over 40 years combined experience in the mixed martial arts industry. RadRok's team has worked with companies like UFC, Strikeforce, Bellator Fighting Championships and Pride Fighting Championship to produce world-class MMA events on the national stage. By focusing their efforts on the combining the top fighters in the world with the best partners and venues, RadRok continues to be the foremost leader in the mixed martial arts event promotion and production. All RadRok events are broadcast as part of Fight Zone TV on FOX Sports Net and reach over 47 million homes across the US. For information on RadRok MMA Championship, please visit Facebook.com/RadRokMMA.
###