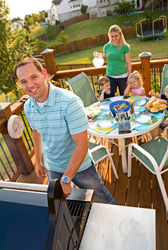 Mountain XT has nearly 3 times as much resin as most conventional deck stain.
Asheville, NC (PRWEB) April 19, 2011
Until now the best deck stains have been notoriously loaded with toxic petrochemical solvents and chemicals. This has been widely accepted as necessary for better performance. However, these dangerous ingredients haven't performed impressively; most not lasting more than a year. This is causing many homeowners to scratch their heads and ask, "Why?"
Mountain XT is an entirely new way to keep a deck beautiful. Loaded with natural cashew resin, citrus, zinc oxide and boric oxide, Mountain XT has quickly become the best deck stain on the market. Earthpaint uses exclusive renewable tree resin technology. This allows the deck to be stained without any of the toxic chemicals and solvents common in today's deck stains. Yet, because of natures excellent defenses, Mountain XT is able to outperform even the most toxic decks stains; even those with benzene, butyl carbamate, Copper-8-Quinolinolate many of which stop working after a year or two any way.
Water based Alkyd / Acrylic deck stains are being introduced as a response to customers upset with toxic deck stains. However, water based deck stains have historically had even worse performance than the toxic oil based deck stains. Unlike these water based deck stains, Mountain XT can be applied to exotic and hardwood decks with the finest results. In fact, Mountain XT is able to keep that gorgeous, rich, brownish red tone of exotic woods for years.
Even the best alkyd / acrylic blends have only around 26% solids whereas Mountain XT has 70% solids. That means Mountain XT has nearly 3 times as much resin than in the weaker, conventional deck stains. Three times the resin coating each wood fiber, protecting it from the elements. Additionally, a clear top coat is required for some of the water based deck stains to work properly. Whereas, Mountain XT can be applied in a single coat. Earthpaint also offers a clear weather barrier top coat which is optional. Compare 200-400 sft / gal coverage for water based deck stains to Mountain XT with 500-740 sft / gal and you can see why many are finding quality to be the real value in deck stain.
Take a drive through the neighborhood and you'll see black and grey decks jutting out like warts on houses and in gardens. These unsightly surfaces can be the source of much stress as homeowners try to fix it only to find they need to fix it again the next spring. The expense of staining a deck professionally has forced many homeowners to become DIY'ers often with less than professional results. Meanwhile, others have turned to the Internet and found http://www.earthpaint.net to be a valuable resource to finding the best deck stain and methods.
Click here to purchase Mountain XT or to learn about deck stain.
###