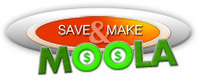 Kensington, MD (PRWEB) April 28, 2011
Save and Make Moola, LLC is pleased to announce the launch of its new online virtual mall at http://www.saveandmakemoola.com. The company has partnered with trusted retailers across the country to bring online shoppers the best discounts and savings available.
With more than 2,500 stores in its merchant network, SaveAndMakeMoola.com provides shoppers with more than 15,000 coupons and deals for their online purchases. The site offers discounts on everything from clothing and accessories to vacations and event tickets. Coupon codes and promotions are updated daily to ensure consumers are provided with the latest active and current deals for Save and Make Moola's merchant partners.
All offers are organized by category, allowing customers to easily find discounts for their favorite stores. User-friendly navigation, a fun and appealing design and site-wide search functionality combine to make SaveAndMakeMoola.com the perfect place for shoppers to visit and save moola when making purchases online.
SaveAndMakeMoola.com is also launching its official blog, The Moola Saver's Blog, which offers additional savings on popular household items. The blog also has great ways to get free products such as baby formula, hair care items, food and makeup.
"SaveAndMakeMoola.com believes shopping for the things you desire should be as easy as the click of a button. Shoppers should be able to find the products they're looking for at a price they can afford," said Carlos Underwood, President and CEO of Save and Make Moola. "We also believe in the old adage, 'A penny saved is a penny earned.' With that in mind, we've created an engaging website to provide shoppers with ways to save and make moola."
SaveAndMakeMoola.com is owned and published by Save and Make Moola, LLC, located in Kensington, MD.
Media Contact
Save and Make Moola Marketing Department
press(at)saveandmakemoola(dot)com
703-879-6438
# # #