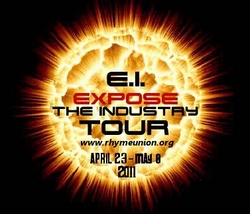 The playing field needs to be leveled to make recorded and live music more profitable for the artist and more readily available to the fans
Bronx, NY (PRWEB) April 20, 2011
E.I.: Expose the Industry Tour/Hip-Hop Union
The Hip-Hop community is coming together to bring the E.I.: Expose the Industry Tour to several cities to address the attacks on collective bargaining rights and raise its own demand for a Hip-Hop union. Panel discussions will feature music and media insiders, author of Dancing with the Devil: How Puff Burned the Bad Boys of Hip-Hop, former Bad Boy recording artist and P. Diddy's ghostwriter Mark Curry, B.E.T's former producer of Rap City tha Bassment, creator of Spring Bling and author of B.E.T,DBRAD&ME, "Dbrad" and Kim Osorio, the first female editor-in-chief of the Source and author of Straight from the Source. A press conference will commence the tour at the University of Wisconsin-Milwaukee. G.A.ME artists as well as local performers will provide concerts during each leg of the tour.
April 23 to May 8 artists, activists, and industry insiders will travel to Hartford, CT; Madison, WI; Milwaukee, WI; Newark, NJ; New York, NY; Richmond, VA; Union, NJ; and Washington, DC to call for a Hip-Hop union with collective bargaining rights. Among artists' concerns are healthcare benefits, unfair production contracts and the terms of recoupment, Payola, radio/video airplay, blaxploitation marketing ploys, "360 deals" and consolidated power of the few music companies.
Three majors still control roughly 70% of all music sales today. "The playing field needs to be leveled to make recorded and live music more profitable for the artist and more readily available to the fans." said Wendy Day of Rap Coalition. On the 2003 "The Kristyle" KRS-One rhymed "it's supposed to be a $2.00 royalty minimum, a Hip-Hop guild, we got to begin building 'em."
The Principal organizer of the tour Grassroots Artists MovEment (G.A.ME), a not-for-profit membership organization in the Bronx, has been working to establish collective bargaining rights for artists since 2001. Other partners of the tour include ACLU-WI, Campaign Against Violence, Emcees 4 P.E.A.C.E, Global Block, Hip Hop Congress, Industry Ears, League of Young Voters, Rebel Diaz Arts Collective, Temple of Hip-Hop, TRUE Skool, Urban Underground, Voces de la Frontera, and Words, Beats & Life.
The E.I.: Expose the Industry tour's major focus is gaining public and congressional support for future legislation that would grant collective bargaining rights to unionized artists, a legal way of leveling the playing field. However, Tour Organizer and executive director of G.A.ME Omowale Adewale formerly Lawrence James said "People in power don't volunteer to relinquish their power so easily, so we are turning up the heat."
About G.A.ME
2001 Grassroots Artists MovEment (G.A.ME) 501c3 not-for-profit membership organization founded in New York to redistribute Hip-Hop's resources back into Black & Latino communities.
2002 G.A.ME begins providing free intellectual property workshops to teach Hip-Hop artists about the importance of legally protecting their artistic work.
G.A.ME commences public meetings towards developing a Hip-Hop Union.
2003 G.A.ME adds "Hip-Hop for HealthCare" initiative
G.A.ME produces "Get in the G.A.ME" compilation feat. dead prez and Immortal Technique
Concert with performances by Common, dead prez, and Saigon
2004 G.A.ME is called to testify at the Congressional Hearings on Universal Healthcare
G.A.ME organizes doctors to provide medical check-ups and prescription medicine to artists
Mr. Cheeks volunteers his performance for "Hip-Hop for HealthCare"
2005 G.A.ME distributes medicine to Lagos, Nigeria for youth and artists
2006 G.A.ME presents "Ladies of Hip-Hop" panel featuring Roxanne Shante, Amanda Diva, and Vice Presidential candidate Rosa Clemente
G.A.ME testifies again at the Congressional Hearings on Universal Healthcare
2007 Follow-up compilation album, "Point G.A.ME" is released
2009 G.A.ME launches Go Green Hip-Hop Tour to address health, conservation, and food justice
2010 G.A.ME enacts a policy to cover transportation and food for all artist members performing for not- for-profit organizations unable to compensate performers
G.A.ME began offering grants and loans to artists for projects
Other notable artists who have contributed to G.A.ME's efforts includes Keith Murray, Mr. Cheeks, Boots from the Coup, RA the Rugged Man, Steele from Smif N Wessun, Heltah Skeltah, Dune of The Last Poets and Wu-Tang's DJ Mathematics.
###