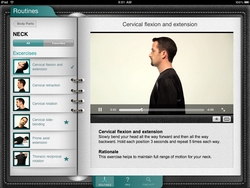 We are very pleased to gain the recognition from Apple for developing a high quality iPad app
West Palm Beach, FL (PRWEB) April 19, 2011
Blue Whale Web Solutions Inc., a leading interactive firm specializing in iPhone and iPad application development, and Conshohocken Physical Therapy announced today several tips that everyday people can use to lead healthier lives. Both companies are the creators of the innovative Motion Doctor iPad application, a tool that showcases dozens of sports and occupation-specific exercises in crisp HD video.
Dr. Desirea D. Caucci, PT, DPT, staff physical therapist and co-owner of Conshohocken Physical Therapy offers tips for individuals to enjoy less pain and better health:
1. Stay active! Bodies are meant to be moved, stretched and challenged. From dancing in the living room to working in the yard, it's important to keep moving.
2. Variety is the spice of a fit life. Include different types of sports and exercises that involve cardiovascular and strength training and stretching.
3. Warm-up before each workout by walking briskly or running for 10-15 minutes.
4. Balance is important to prevent injuries and strains. Pick some good balance activities and practice them every day.
5. Good posture is vital for spine alignment and overall wellbeing. Actively check your posture when sitting, standing, and engaging in exercises.
6. Eight hours of sleep a night will heal your aches and help you face the day.
The Motion Doctor app was recently featured on TUAW.com, a leading app review and recommendation site. Motion Doctor was also featured in iTunes as "New and Noteworthy" and in the "What's Hot" section, providing the app with a significant boost in national visibility. During each of these periods of increased exposure, downloads of the app increased by an average of 1,000 percent per day.
"My six simple tips for living better are an important part of a daily health regimen," said Dr. Caucci. "Through both my practice and the Motion Doctor app, I encourage exercise and good posture as keys to enjoying daily activities and handling workplace stress."
"We are very pleased to gain the recognition from Apple for developing a high quality iPad app," said Gregg Weiss, CEO and Founder of Blue Whale Web Solutions, Inc. "Motion Doctor is gaining serious traction because it provides professionally shot videos of sports-specific exercises in a clean and intuitive design."
The Motion Doctor app is available now on Apple's App Store for a $14.99 fee at http://itunes.apple.com/us/app/motion-doctor/id403219869?mt=8, or for more information visit http://www.MotionDoctorApp.com.
About Conshohocken Physical Therapy, Inc.
Conshohocken Physical Therapy (CPT) is a privately owned and operated practice that delivers high quality, evidence-based care to improve their patients' quality of life. With an established reputation both locally and nationally, the practice has been voted the "Best Physical Therapy Practice in Montgomery County, PA," for three consecutive years (2008, 2009 and 2010). The Owner, Dr. Desirea D. Caucci, PT, DPT, has also been named one of the top 3 Physical Therapists in the nation by Advance Magazine (2008) and has been honored as the national winner of the Dorland Health People Award for Physical Therapy (2010). CPT's mission is to make a positive impact, both personally and therapeutically, on every person who enters the office. They improve the quality of their patient's lives with a friendly, evidence-based and innovative approach. Because of this unmatched level of care, CPT is the provider of choice for many trusted Physicians in the Philadelphia region.
About Blue Whale Web Solutions, Inc.
Blue Whale Web Solutions, Inc. is a 5-year-old interactive firm with offices in West Palm Beach and New York City. We provide businesses with an array of Web and mobile services including iPhone Application Development, iPad App Development, Website Design and Development. Our team consists of highly experienced professionals who have worked with the world's leading technology, advertising and design companies. We establish Web and mobile strategies that match our clients' goals, objectives and budget.
# # #