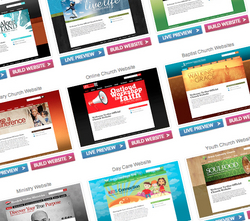 "Sharefaith is giving their 17,500 customers and future members a stunning, professionally-designed church website....no extra fees."
Ashland, OR (PRWEB) April 19, 2011
Websites are an essential tool to promote a brand, idea, or company. Churches have long made use of websites to gain a presence in the online world. The bigger the church, the bigger the budget, and the better looking the website. Used for promoting church events, streaming audio and video sermons, and creating a following, churches have in the past shelled out thousands of dollars in web design and hosting fees. Now, with tithing on the decline and the economy as it is, can it be reasonable for any church to push that amount of money into a creative budget with little eternal value? Sharefaith thinks that every church should have a top-notch church website. Thus, the church media mogul is introducing a new major means for improving churches around the world—church websites.
Sharefaith.com has long been considered the leader in church worship media. It comes as no surprise that this company has been paving the worship media way for the last 8 years, serving more than 17,500 churches in the U.S. With a worship media library of more than 38,000 church media templates, and more than half a million visitors per month, Sharefaith has become a household name for stunning and professional worship media including, sermon PowerPoints, bulletin covers, worship videos, flyers, newsletters, email solutions, backgrounds and now, church websites.
The High Cost of Worship Media and Church Websites
Church websites are legendary for their ugliness? Calling them outdated, irrelevant, and slow would be an understatement. It's hard to blame them, when the cost of a current church website ranges from $600-$1200, plus additional support and hosting fees? On top of that, church volunteers or staff members have no design or programming knowledge, yet they to update the site and make it look like a megachurch website. As if that is not enough, these churches have to pay individual fees for every part of their worship media offering. Those costs can quickly add up, especially considering that a typical Sunday worship kit consisting of a sermon PowerPoint, bulletin cover, worship video, worship background and newsletter template can run anywhere from $450-$600.
Theology through Technology
That's what makes Sharefaith's website solution undeniably brilliant. Why should a church pay thousands for individual worship media items, websites, and hosting, when that church can pay one low yearly membership fee and get it all? This is an outstanding value that will be thrilling for churches.
With their addition of church websites and their partnership with Christian webhost Truepath, Sharefaith is giving their 17,500 customers and future members a stunning, professionally-designed church website with additional themes, banners and widgets to tweak and update as often as they like. No programming or design knowledge required, and no extra fees.
With the introduction of Sharefaith's church website solution, churches can now have a megachurch-style website, complete with the ability to host audio and video sermons, announce upcoming events, publish a daily devotional, and change the look and feel of a church website based on the season, sermon series, or a special event. There is truly nothing like it out there.
Founded in 2003 as Faithclipart (http://www.sharefaith.com ) and owned by Letters & Arts Inc., Sharefaith provides worship media and communication solutions to more than 17,500 churches in the U.S. With and intuitive website, 235 new monthly worship media offerings and 38,000 worship media templates, Sharefaith delivers the widest church media offering at the best price.
###