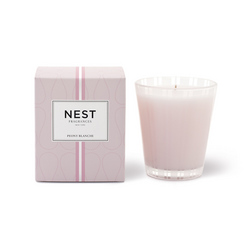 New York (PRWEB) April 19, 2011
NEST Fragrances, the leading luxury home fragrance manufacturer, introduces the addition of a new, sophisticated floral scent, Peony Blanche, to its superior collection of fine fragrances. Featuring a creamy, blush-pink wax blend in NEST's signature clear glass vase with modern stripe etching, the candle is housed in a stylish box adorned with a variety of subtle pinks and whites, a departure from the NEST Fragrances Collection's usual packaging.
"We have started introducing seasonal fragrances and, at the same time, we are stepping out and having fun with more colorful packaging," said home fragrance expert Laura Slatkin, founder and CEO of NEST Fragrances. "Our customers have been responding very favorably to these new introductions and our seasonal scents have become our new stars – they are outselling our top fragrances! Peony Blanche captures the beauty of this extraordinary flower with an unsurpassed fragrance…it is the perfect gift for Mother's Day or a great way to say hello to spring."
The soft, nuanced fragrance of Peony Blanche represents the essence of spring with the aroma of peony blossoms and watery nuances accented by a white floral bouquet of jasmine, magnolia and lily.
The NEST Fragrances Collection's new Peony Blanche fragrance is available in an 8.1 oz. candle for $32 (SRP), and can be purchased at Bergdorf Goodman, Neiman Marcus, Saks Fifth Avenue, Papyrus and specialty stores nationwide beginning in mid-April.
To obtain high-resolution images, please contact Tim Rossi (contact information above).
About NEST Fragrances
Founded and owned by Laura Slatkin, NEST Fragrances (NEST) is a specialized home fragrance company that emerged from its parent company, Slatkin & Co., after it was acquired by Limited Brands, Inc. Laura has a long-standing reputation as a leader in the home fragrance industry and is well-known for her luxurious scented candles, room sprays, diffusers and other essentials for rooms and environments. NEST's client list currently includes more than 50 prestige companies in the fashion, beauty and home fragrance industries – all of whom turned to NEST to develop their own exclusive line of home fragrance products. In 2008, Laura launched her own home fragrance collection, NEST Fragrances, which won the 2009 FiFi Award for Interior Scent Collection of the Year. In 2010, Laura launched her second and third fragrance collections, Sprig Fragrances, and Project Art by NEST Fragrances. NEST draws on decades of experience in the home fragrance industry with a special expertise in designing, developing, producing, distributing and marketing home fragrance collections that capture each client's unique brand image and style. For more information, visit http://www.nestfragrances.com. NEST can also be found on facebook and Twitter.
###