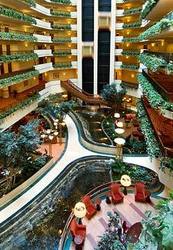 Oklahoma City, OK (PRWEB) April 19, 2011
Today, Monscierge announces their newest hotel partner property with the Renaissance Oklahoma City Convention Center Hotel & Spa. Monscierge will install two Monscierge 47 hotel touch screens at the Renaissance of Oklahoma City. In addition, the technology company is anticipating the installation of the first ever Monscierge 22 multi-touch touch screen to hit the market.
The Renaissance of Oklahoma City is excited about introducing the new technology to enhance their current services and expand Renaissance goals to be head of the competition in service and technology.
"I am proud to say that I don't think there is any other hotel in the state of Oklahoma that has all of their front desk staff using iPads," said Joe LoMonaco, General Manager of the Resaissance of Oklahoma City. "And it's exciting. We don't want to be left behind with old technology or antiquated software. We are all about the Monscierge commitment to continually upgrade and advance their software and look."
Monscierge is eager to partner with a hotel in their neighborhood that understands the value in and necessity of forward motion and technology.
"We are continually working with our client properties and technology partners to reevaluate and expand the capabilities of our software," said Jim Texter, VP of Engineering at Monscierge. "It is important for hotels to allow guests to gather local information in a medium they are comfortable with. It is our goal to provide the same information-rich knowledge a concierge offers in a platform tech-savvy guests feel comfortable using."
With three touch screen devices, the hotel will offer guests hotel information, local recommendations and travel tools at convenient locations.
"Renaissance is all about the 'Discovery Clientele,' who are savvy and want to do business comfortably in a relaxed atmosphere," said LoMonaco. "So we pride ourselves in being a forward-thinking hotel, and technology plays a big role in that. Monscierge offers a cutting-edge technology that fits our brand and goal to cater to current and future generations of guests."
The installation of the two Monscierge 47 and the Moncierge 22 devices is scheduled for Tuesday April 19, 2011 at 10 am.
About Monscierge
Monscierge is an international software company, specializing in interactive and touch screen solutions for the hospitality industry. Founded 2009, Monscierge is a privately held company. Their North American office and Innovations Center is located in Oklahoma City, Oklahoma. Monscierge provides services for clients around the world, including J.W. Marriott, Hyatt, Kimpton and Hilton properties. For more information, please visit http://www.monscierge.com.
About Renaissance Oklahoma City Convention Center Hotel & Spa
The Renaissance of Oklahoma City, a Marriott Brand hotel, is located in the heart of downtown and next to Bricktown, as well as connected to Cox Convention Center. A 4-diamond property with newly renovated guest rooms and public space, this downtown hotel is your choice for style, class and a provocative ambiance. This 311-room hotel is the only one in town to offer guests the exquisite dining and entertainment of 10 North Grille, The Bar at 10 North and Caffeina's Coffe Bar, serving Starbucks coffee. The Renaissance of Oklahoma City also offers guests luxurious relaxation at The Spa at 10 North. The Grand Ballroom, flexible meeting space and convention center arena and exhibit halls provide the perfect place for weddings, reunions, galas, small meetings or large conventions. For more information, please visit http://www.marriott.com/okcbr
###