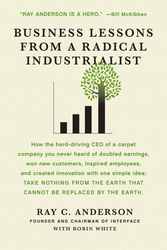 "Ray Anderson is a hero." -- Bill McKibben, author of Deep Economy
Atlanta, GA (PRWEB) April 19, 2011
Business Lessons from a Radical Industrialist is now out in paperback, and chronicles the 17-year journey since Ray Anderson's 1994 epiphany that changed the course of his billion dollar company, carpet tile manufacturer Interface, Inc. Prodded by a question from customers, the then-CEO went looking for inspiration for a speech to a task for on the environment, and found instead a "spear in the chest" at the realization that he – and the entire industrial world – had it all wrong.
Business Lessons from a Radical Industrialist (St. Martin's Griffin, 2011) tells the Interface story, and makes a case for a new business model for sustainability; a model that takes people, profit, purpose and the planet in a singular perspective. It's an unlikely story from an unlikely person – a captain of industry who, at the top of his game and at the age of 60, was inspired to challenge his worldwide workforce to find "a better way to a bigger profit."
The Interface story is a compelling one: In 1994, making carpets was a toxic, petroleum-based process, releasing immense amounts of air and water pollution and creating tons of waste. Since 1994, Interface has cut waste by more than $430 million, slashed emissions and water use, invented and patented new machines, materials, and manufacturing processes, increased sales by more than 50%, doubled earnings, and raised profit margins.
With practical ideas and measurable outcomes that every business can use, Anderson shows that profit and sustainability are not mutually exclusive; businesses can improve their bottom lines and do right by the earth.
About the Author
RAY ANDERSON was named one of Time magazine's Heroes of the Environment and one of MSNBC.com's Top 15 Green Business Leaders in 2007. He and Interface have been featured in three documentary films, including "The Corporation" and "So Right, So Smart." He co-chaired the President's Council on Sustainable Development and the Presidential Climate Action Project. He and Interface have been featured in The New York Times, Fortune, Fast Company, and many other publications.
# # #