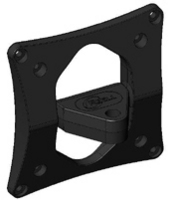 vTilt combines Reell's superior positioning performance with VESA mounting simplicity.
Saint Paul, MN (PRWEB) April 20, 2011
Pairing the superior smooth quality feel, precise position control, and consistent long-life performance of the world's best torque technology, with the easy integration of a VESA standard mounting configuration, the vTilt VESA Monitor Mount is an ideal solution for moving and positioning monitors weighing up to 25 lbs.
Designed to attach directly to either the 75mm or 100mm mounting holes of a standard VESA compliant monitor, the vTilt is only 5 cm deep. It's compact and clean design has an aesthetically pleasing and durable nylon housing that completely seals all internal components and lubricant.
All vTilt VESA Monitor Mounts feature an asymmetric torque design, allowing for easy upward monitor adjustment without compromising position control in the downward direction. It goes where you want it easily, and stays there until you move it.
The consistent performance of Reell's patented ReellTorq® technology ensures smooth long-life vertical positioning without requiring any adjustments. Customers receive the right torque in every part and it doesn't change over life.
Reell Precision Manufacturing provides high-quality innovative solutions to transmit torque, control angular position and protect delicate components from excessive force. Combining the worlds most precisely controlled torque technology with the industry's most experienced engineering team provides a perfect product fit in customer applications. Reell's responsive global customer service and world class manufacturing ensures easy ordering with on-time delivery.
Reell's vTilt is available now. Contact Steve Romslo (steve(dot)romslo(at)reell(dot)com, +1 651.765.6922) for additional information and to request a sample.
Reell Motion Control Excellence - Feel the difference!
# # #