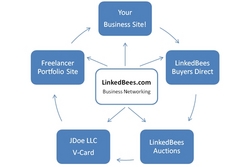 Denver, CO (PRWEB) April 20, 2011
LinkedBees is proud to announce the launch of its business networking site: LinkedBees.com, The Business Business Network. As of April 2011, individuals and businesses around the world will count with a new concept in business networking: the no cost, flexible, open, and global networking format. LinkedBees´ goal is to provide an effective space for individuals and businesses to gather, establish contact, and do business. Either on the network or off the network. No costs, conditions, or strings attached.
LinkedBees.com has already integrated, and will integrate many business functions and activities in one place. With a single membership, registered businesses have acces to all services and sites of the network including those created and provided by other registered members.
Initial services include: Free LinkedBees contact creation and management system, LinkedBees Buyers Direct, Linkedbees Project Bids, LinkedBees Auctions, LinkedBees Classifieds List, Honey Pages Business Directory, Free Unlimited Member Websites, Business Matching, and many more innovative and original products to come.
These include Virtual Companies, LinkedBees Lending Market, and more single page website options like online Resumes, V-Cards, and individual Product Show-casts.
"On Social Networks members are predisposed to have fun, entertainment, gossip, friendship, family, sharing, and personal connections in general. However, on a Business Network members are in a different mode, a business mode. It´s all about business contacts, referrals, online promotion, leads, clients, sales, and ultimately profits. It´s a totally different ball game" explained Donald McIntyre, Founder.
LinkedBees is about business networking, finding leads, growing sales, and increasing profits.
The site is specifically designed for business networking. Registered members can connect with each other to create lead, prospect, client, partner, supplier, or investment relationships.
LinkedBees ´ mission is to "foster business in all its forms". This unique, underlying philosophy is the reason for the network´s flexible, open and global format. All on and off network business is encouraged and supported.
"The Business Network is available globally to all individuals and businesses working to achieve business success" said Nancy Mitzner, Head of Business Development.
LinkedBees is the ideal no cost networking solution for big, medium, small and home businesses as well as individual professionals including self employed, freelancers, and sole proprietors around the world.
Linkedbees is a WordPress, BuddyPress, bbPress, and Multisite technological platform and uses wpmudev.org and sitemile.com themes, plug-ins and web development services.
LinkedBees.com | Contact: Nancy Mitzner | Toll Free: 888-205-0075 | beehive(at)linkedbees(dot)com
# # #