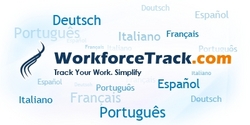 WorkForceTrack is now integrated with MS applications, Google apps and Quickbooks.
(PRWEB) April 26, 2011
WorkForceTrack, rapidly growing ERP brand, announces new version of its solution. The latest version of WorkForceTrack will offer Custom Dashboards and advanced Reporting tools. The newest reporting tool will enable users to create templates they need, customize existing ones and set up visibility for other users. The new version of WorkForceTrack will be also available on Iphone and Android devices. Other series of enhancements are web-site management and integration with widespread applications.
WorkForceTrack has already won its fame as a well-integrated system for eBusiness and online Project management needs. The companies do not have to make several different subscriptions to different solutions suffering from keeping redundant details and overpaying. The main strategy of WorkForceTrack is to satisfy integration needs and to carry out customization for simplifying users' efforts as well as enabling them not to abandon the solutions they accustomed to.
WorkForceTrack is now integrated with MS applications, Google apps (Calendar, Google Docs) and Quickbooks. Thus, an organization is able to use up to 20 business tools for successive Project Management and CRM processes. WorkForceTrack provides best ERP features for increasing productivity, sales and project realization.
Today, a new profession of CRM manager gets extremely popular. Yet, the role of CRM manager needs maximum involving at minimum costs. WorkforceTrack is an easy-to-understand system, thus, even a newbie recently migrated from desktop systems can study the solution in just several hours.
All-in-one solution, i.e. system combining Accounting+Project Management tool+ CRM, WorkForceTrack assists in getting more profits from online ecommerce projects as well. WorkForceTrack with its technical characteristics multiplied by its flexible prices can satisfy any user's need.
As bonuses, WorkForceTrack vendors offer free support as well as accounting-payroll support.
About WorkforceTrack
WorkforceTrack is UK based company specializing in business solutions development for small and medium-sized business needs.
WorkforceTrack, as a business product, is web-based ERP solution designed and developed as a cheap alternative to branded Project Management and ERP systems. Now it is one of the most rapidly growing all-in-one ERP systems. Once WorkforceTrack started as a solution for small business needs. Now the solution became the choice of several medium-sized companies. WorkforceTrack is the complete set of CRM, Project Management, email marketing, billing and accounting web-based tools.
WorkforceTrack became the choice of more than 120 companies all over the world.
WorkforceTrack allows using different business tools on one common platform. It is not necessary to migrate from out-of-date system to a better one for the whole system can be customized to the clients' needs. The only thing WorkForceTrack customers will have to do is to watch the sales growth.
# # #