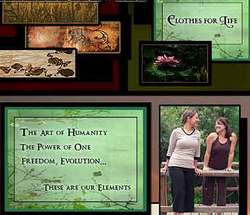 The search for sustainability did not end with textiles. These green "competitors" embraced the cultural and social change by helping the planet but helping each other, as well.
Seattle, WA (PRWEB) April 20, 2011
The derivation of the word "Sustainability"– in Latin, sustinere – translates into "holding up". Recently, we've all had quite a bit trouble with "holding up" against the stream of economic problems, failings of institutional and financial structures and environmental threats. Nobody knows these better than the small business owner. Maintaining enthusiasm for owning a business, working with customers and contributing to the community seems to require sometimes Herculean strength.
One way to boost optimism is to look for ways to help and to serve. There's some area where everyone can contribute, no matter how small or large, that creates magic for all.
Two small businesses owners, separated by hundreds of miles, decided independently to raise the awareness of the dangers of the conventional textile industry. After learning that the conventional cotton crop is one of the biggest consumers of cancer-producing insecticides and pesticides - polluting soil, waters, and damaging cotton workers' health - Alina Bartell, the owner of Natural ClothingCompany of Snohomish, WA decided to promote eco-friendly and skin-friendly clothing. Today, many of her clients are people whose skin sensitivity does not even let them wear the conventional textiles.
At the same time Dallas Fairbanks in Lake Tahoe, California has always been an avid supporter of environmental protection and a lover of nature. The desire to help both the earth and its people led her to establish her own store,Element Eco Wear, which also carries beautiful, environmentally safe organic clothing and over the time has developed a large clientele.
Both of these stores carry only planet friendly textiles made with organic and natural fibers. Their clothing is fashionable and fun, but also eco-friendly and safe for the environment. All items are made from fibers like organic cotton, hemp—which does not require chemicals to grow—or organically grown bamboo. The owners have a strong purpose in helping their area and are involved in organizing this week's Earth Day events in their communities.
But the search for sustainability and better practices does not end with textiles. These green businesses see the necessity of the business environment to embrace cultural and social changes, as well. They see that caring about us all and looking over the long term proves true to the "we are all in it together" mantra. Working together has a long record of workability, so instead of competing these two store owners decided to network together—despite the fact that their stores are "competitors" in a traditional sense, operating mainly online and directed at a similar public. Both stores are popular and well placed in the e-commerce industry, and both carry similar types of clothing. But still, they decided to help each other.
When Element Eco Wear was short of stock, Dallas asked Natural Clothing Company for help. Alina shipped the order to the customer and a new relationship was born. Ever since, both companies exchange ideas, information and tips on succeeding in business, and even share promotions together. It helps to reduce costs and proves to be a fantastic network to compare notes. The owner's common purpose strengthens the meaning of cooperation, working together instead of against each other. After all, who else understands your business better than your competitor?
You can find the businesses at http://www.NaturalClothingCompany.com; http://Facebook.com/NaturalClothingCo and http://www.ElementEcoWear.com.
# # #