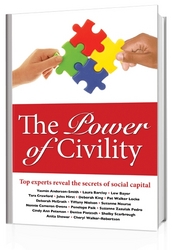 Enough already with the bullying, braying and bad behavior! What the world needs now is a rededication to reasonableness and respectfulness in civility.
San Francisco, CA (PRWEB) April 20, 2011
Enough already with the bullying, braying and bad behavior! What the world needs now is a rededication to the reasonableness and respectfulness of civility. From cradle to grave, this basic social behavior, once cherished by the world, has been drowned out in an angry sea of malcontent. To address this incivility tsunami, Bay Area publisher THRIVE Publishing™ introduces their latest book, The Power of Civility – Top Experts Reveal the Secrets of Social Capital just in time to also recognize the month of May as International Civility Awareness Month. This designation officially appears in Chase's Calendar of Events – The Ultimate Go-to Guide for Special Days, Weeks and Months.
Founder of THRIVE is well-known business strategist Caterina Rando, Publisher & Speaker, who works with image, etiquette and civility professionals to grow their businesses. "The 18 authors featured in this book are the crème de la crème of civility and etiquette professionals,'' says Rando. "Each author's chapter highlights specific areas of wisdom and expertise that is encyclopedic in scope and will inspire genuine personal and professional growth to the reader.''
Among the distinguished roster of civility expert authors is Lew Bayer, an internationally recognized Canadian authority on Civility at Work. She is founder of the Center for Cultural Competence, CEO of Civility Experts Worldwide and president of the International Civility Trainers' Consortium. In her chapter, The Power of One--Choosing Civility, she writes: "Some experts argue that because civility is the outcome of choosing behaviors that are congruent with positive personal values, you can teach a person how to make decisions, or you can teach someone about consequences. However, you cannot, in fact, teach civility.''
Maryland-based Yasmin Anderson-Smith AICI CIP, founder of KYMS Image International and co-founder of the Civility Counts Project for the Association of Image Consultants International (AICI) where she currently serves on their international board as vice president of marketing, wants readers to "think of themselves as a personal brand.'' Her chapter, Develop Your Personal Brand and Power It with Civility, gives six insightful steps needed to build a successful personal brand.
President of Final Touch Finishing School, Inc. (Seattle) and co-founder of Global Protocol, Etiquette and Civility Academy (Dallas) is Deborah King AICI CIP of Final Touch School who writes in her chapter Civility Begins at Home, "A home void of civility leaves little chance for the members to be civil outside the home. It is at home that lessons of civility are learned.''
Nonnie Cameron Owens, president and CEO of Etiquette Plus based in southwest Florida, has trained thousands of college students, corporate executives and NCAA coaches, administrators and athletes, on the fine points of etiquette. Her chapter, Dining with Civility – Manners Matter at the Table, shows fine dining as both an art and a language. By learning the language of formal dining, you will be prepared for any situation, and actually enjoy the experience.
THRIVE Publishing™ celebrates the timely release of The Power of Civility in a month-long opportunity for book lovers to participate in The Power of Civility Virtual Book Launch Tele-Summit Series absolutely free! Each of the 18 civility and etiquette expert authors will be sharing their wisdom, innovative, insightful and success-building strategies straight from the book in one-hour sessions. The series starts Wednesday, May 4th, at 3pm PT/6pm ET and runs through Monday, June 6, 2011. For registration, or more information, visit the Web site: http://www.powerofcivilitytelesummit.com.
Specialty publisher, THRIVE Publishing™, a division of PowerDynamics Publishing, Inc., San Francisco, provides industry experts the system and support to produce quality how-to books to uplift and enhance the personal and professional lives of our books' audiences. The Power of Civility (224 pages; $24 U.S.; $29 Canada) is the 11th in a series and now available at amazon.com or on the Web site: http://www.powerofcivilitybook.com. Other select books from THRIVE include: My Style, My Way, Inspired Style and Executive Etiquette Power, to name a few.
Expert Profiles of those mentioned in this press release can be viewed on PR Newswire Profnet at these links:
Lew Bayer http://www.profnetconnect.com/lew_bayer
Yasmin Anderson-Smith http://www.profnetconnect.com/yasmin_smith_anderson
Cindy Ann Peterson http://www.profnetconnect.com/cindy_ann_peterson
Nonie Cameron Owens http://www.profnetconnect.com/nonnie_cameron_owens
###