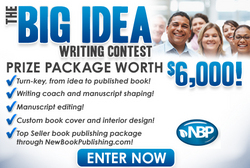 Altamonte Springs, FL (PRWEB) April 20, 2011
The Big Idea Writing Contest, featuring a $6,000 prize package, is now accepting entries from Christian writers who dream of publishing a book. The winning entrant will have the opportunity to get from an idea all the way to a published book, through writer coaching, manuscript development, professional editing, titling and packaging. With a custom cover and interior design, marketing and PR services with consultation, this package helps position the winning author's book to succeed! This contest is co-sponsored by the Christian Self-Publishing Association (CS-PA) and NewBookPublishing.com.
The Big Idea Writing Contest, which launches April 19, seeks to find both a book idea that has the potential to become a successfully published book, as well as a writer with the potential to pen such a work. The winning author will receive step by step, one-on-one professional help from initial idea to published book, through writing coach services, manuscript shaping and development, publishing consultation, manuscript editing, titling and packaging concepting, a custom cover and interior design, marketing and PR consultation, and more.
Authors simply enter the contest at this link: The Big Idea Writing Contest, complete an entry form (including the book idea and a writing sample) before May 6, 2011, and await the announcement of the winning entrant on May 20, 2011. All entries will be reviewed and evaluated by seasoned Christian publishing industry veterans.
"I am excited about offering a worthy Christian author the opportunity to get his or her book all the way from original vision to a finished book--and out to the world. I will never forget when someone gave me the opportunity to publish my first book, back in 1989. Now, I am excited to give the winner my time and focused attention--to help them craft the book of their dreams," says Jim Kochenburger, president of the Christian Self-Publishing Association. "I am also delighted to co-sponsor this event with the professionals of NewBookPublishing.com. I know the excellence they bring to publishing and the personal attention they provide for authors will be a tremendous blessing to the winning entrant."
"NewBookPublishing.com is excited to be chosen as a part of this great promotion to authors throughout the United States. This contest by the Christian Self-Publishing Association is a sure to attract quality authors who have great messages that need to be in print. It is the heart of NewBookPublishing.com to take what God has put in someone and push that compelling message out to the masses in order to advance the kingdom of God," says Patrick J. McGuffin, president of NewBookPublishing.com.
The Christian Self-Publishing Association was founded by best-selling Christian author and Christian publishing industry veteran, Jim Kochenburger. CS-PA was founded to raise the quality of Christian self-published books, while equipping, empowering, and serving self-publishing Christian authors. CS-PA offers authors all services they need to get from book idea to final manuscript: Writer Coaching, Manuscript Shaping and Development, Consultation, Manuscript Review and Rating, Editing, and more.
NewBookPublishing.com, a division of Reliance Media, helps Christian authors edit their manuscripts, publish, print and successfully market their books nationwide. The unique experience with NewBookPublishing.com makes the whole process, from manuscript through book sales, easy and highly profitable for authors! Since 1969, this team has made author's dreams a reality. We take the mystery out of self-publishing and book printing. Authors save money, compared to other self-publishing options. We excel in helping authors market their book successfully. Our authors keep ALL of their royalties and own the rights to their book and we never lose sight of that. We are known for being experienced, creative, knowledgeable and dependable.
###