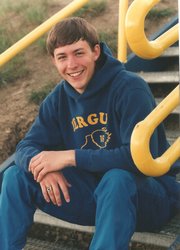 MAY GOD'S PEACE AND ANGEL'S WINGS SURROUND YOU
Linton, IN (PRWEB) April 21, 2011
It was about 3:30 on the morning of October 26, 2002 when "I woke my husband, Danny, to tell him I felt like I was dying! The crushing pain in my chest lasted only a few moments before I leaned over the side of the bed, vomited, and fell into a deep sleep."
The ringing phone signaled that Danny had already left for work. The next few moments were a blur.
"Hearing my son's father, Terry, telling me that our son, Troy, had been killed in an automobile accident and hearing myself scream - No God, not my baby boy! It was the worst day of my life. Nothing prepared me for seeing my first born child in a casket."
Parents are supposed to leave this world before their children, not the other way around. What about Jaidan - the three month old daughter he'd left; who would raise her? She was crying her heart out that day, no one could soothe her. She was walked, her diaper was changed, she had a fresh bottle and still she screamed at the top of her lungs.
Her other grandmother was holding her when the funeral home started playing the song "Angel" by Sarah McLachlan. As soon as "Angel" started playing Jaidan went completely quiet. It was later that her grandmother said, "When the song started playing Jaidan quieted down, laid back, spread her arms out, looked up above and gently moved one of her hands as if someone was tickling it lightly with a feather."
She stayed that way until the song ended. She never cried again that day. It was the beginning of a multitude of miracles that "I and family members have continued to receive since Troy's passing."
Home alone on November 6, eleven days after he passed found me busy printing out pictures of Troy for friends and family members. They were spread out on the dining room table; the table also had a flower arrangement sitting in the middle of it that someone had sent to the funeral.
The dryer buzzing in the utility room signaled it was time to take the clothes out. Stepping back into the dining room "I stopped in my tracks." It was a surprise of a lifetime. There, lying on that table, next to all those pictures, was a single flower pulled out of the arrangement. It was in that instant "I felt my son was still with me, I knew I was still loved."
The picture of that wonderful gift is in my recently released book Troy's Miracles and it turned out that many others were receiving gifts on that special day. On the eve of that 11th day Troy's sister, Terra, came in shaken. She had been driving home on the state highway when a deer darted out from the edge of the road then suddenly stopped. She said the way it stopped is what amazed her; it was as if someone had blocked it's path, not the normal way a deer would stop to run back. She felt sure it was Troy.
Talking to Jaidan's mother a few days later led to another miracle. On that 11th day Shayna had been driving on an icy road with Jaidan strapped in her car seat when the vehicle started to swerve. She knew they were going into the ditch. Suddenly the vehicle stopped spinning around on the ice. She couldn't believe it was also headed in the right direction. She felt Troy had saved them.
That same day Troy's friend Kara, who he had been very close too, was sitting in her bedroom on the bed thinking of him and smoking a cigarette. All of a sudden the cigarette went flying out of her finger's as if someone had knocked it out. She picked it up and again it flew out of her finger's. After the third time she finally realized what was going on and said, "Okay Troy, stop it!"
Trisha, his cousin, was born just a few days prior to him; at the funeral she said he always felt more like her brother than her cousin. She loved him dearly. She too had a miracle on the eleventh day. The football which Troy had given to her son was sitting on top of her china cabinet. Suddenly, it fell off and hit her on the top of the head. The same football that had been in the same spot for years suddenly decided to jump off the cabinet. She knew Troy was still around.
A few weeks later "I met with Troy's dad to go through his things." Everyone had been so worried about Terry. He hadn't hardly left Troy's casket at the funeral. He looked so lost. They were afraid he might have a heart attack as his loss was so deep. "I was surprised to see him smiling so big when I arrived; not just smiling but - glowing. Terry had a story to share with me; a story I found out happened on the eve of the eleventh day of our son's passing in the automobile accident."
He said he was sitting in his living room when he had the strongest urge to walk outside. He got up and walked out the back door of his home and the first thing he noticed as he stepped out into the night air was how completely calm and quiet it was. Not a single leaf was moving.
Terry walked to the corner of his house and as soon as he turned that corner the weight of the world lifted off his shoulders. There, above the tree in his yard were three angels, all in white, whose wings were moving ever so slightly to keep them afloat. The angels to the left and right were both faceless. The angel in the middle was Troy, looking down and smiling at him just as he had looked the last time they were together.
"At that moment I had total confirmation that my prayers had been answered. God had taken care of my son.'
Troy continues to give strength and gifts on a regular basis. It's a wonderful blessing to have such a special guardian angel and the confirmation that our children never really leave us.
"Our family believes we have been blessed by God so that we can give testimony to the world that God is still with us, He is still performing miracles and that if we only TRUST COMPLETELY He will take care of us."
It is possible that Troy and the angels were sent down to earth to confirm a famous bible story for the world to hear again so people may be comforted and once again have hope in this world that is so troubled.
It is the Resurrection question: The book of Mark: Chapter 12; Verses 18 thru 27
Some Sadducees, who say there is no resurrection, came to Jesus and put this question to him, saying, "Teacher, Moses wrote for us, 'If someone's brother dies, leaving a wife but no child, his brother must take the wife and raise up descendants for his brother. ' Now there were seven brothers. The first married a woman and died, leaving no descendants. So the second married her and died, leaving no descendants and the third likewise. And the seven left no descendants. Finally, the woman also died. At the resurrection (when they arise) whose wife will she be? For all seven had been married to her." Jesus said to them, "Are you not misled because you do not know the scriptures or the power of God? When they rise from the dead, they neither marry nor are given in marriage, but they are like the angels in heaven."
"This, I believe, is the first time in history that God has allowed someone to return to his family with his angel wings to confirm this famous bible verse; to give comfort and hope to everyone here on earth and to prove He is still in control."
There are many more miracles recorded in Troy's Miracles. It is lovingly illustrated with black and white and color photos throughout. Since its release in December many stories have been told by other's who have experienced miracles either while reading or after reading it; some are documented on the website. Troy's Miracles is available on my website; http://www.troysmiracles.com, from Amazon, Barnes and Noble, Books a Million, Continental Shelf Publishing, LLC, and other fine book stores.
###