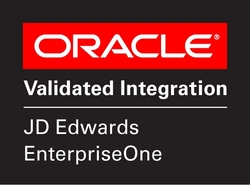 The Oracle Validated Integration applies a rigorous technical review and test process...
Lombard, IL (PRWEB) April 26, 2011
CDI, a Gold-level member of Oracle® PartnerNetwork (OPN), today announced it has achieved Oracle Validated Integration of SnapPay 3.1 with Oracle's JD Edwards EnterpriseOne 9.0. CDI is a global provider of multi-channel commerce solutions, supplier portal, credit card automation and proactive e-mail marketing software. SnapPay was developed for Oracle's JD Edwards customers involved with credit card & ACH payments. It provides a secure end-to-end solution that meets their payment processing needs.
To achieve Oracle Validated Integration, Oracle partners are required to meet a stringent set of requirements that are based on the needs and priorities of the customers. This validation re-iterates CDI's commitment to provide a best in class solution to our Oracle's JD Edwards EnterpriseOne customers. SnapPay provides customers a proven solution that has been tested and uses integration best practices and Oracle standards.
"The Oracle Validated Integration applies a rigorous technical review and test process," said Kevin O'Brien, senior director, ISV and SaaS Strategy, Oracle. "Achieving Oracle Validated Integration through Oracle PartnerNetwork gives our customers confidence that the integration between CDI's SnapPay 3.1 and Oracle's JD Edwards EnterpriseOne 9.0 has been validated and that the products work together as designed. This reduces risk and improves the implementation cycles for our joint customers."
Suhas Gosavi, President, CDI adds "For over two decades CDI has been helping Oracle JD Edwards customers achieve the most out of their ERP investments. Today, the payment card industry is driven by higher standards and the stakes for our customers have risen. Achieving Oracle Validated Integration is another step that we have taken to bolster the faith our customers have in our solution."
About Oracle Validated Integration
Oracle Validated Integration through the Oracle PartnerNetwork gives customers confidence that integrations between Oracle Applications (and Oracle Enterprise Manager) and complementary partner capabilities have been validated and the products work together as designed. This can help reduce risk, improve system implementation cycles, and provide for smoother upgrades and simpler maintenance. Oracle Validated Integration applies a rigorous technical process to review the integrations of third-party software to Oracle Applications products, including productized repeatable integrations from system integrators. Oracle provides access to Oracle Applications software, tools, technical resources and training to assist partners in developing integrations based on Oracle standards and best practices. Partners who have successfully validated their integrations are authorized to use the "Oracle Validated Integration" logo. For more information, please visit Oracle.com at http://www.oracle.com/us/partnerships/solutions/index.html.
About Oracle PartnerNetwork
Oracle PartnerNetwork (OPN) Specialized is the latest version of Oracle's partner program that provides partners with tools to better develop, sell and implement Oracle solutions. OPN Specialized offers resources to train and support specialized knowledge of Oracle products and solutions and has evolved to recognize Oracle's growing product portfolio, partner base and business opportunity. Key to the latest enhancements to OPN is the ability for partners to differentiate through Specializations. Specializations are achieved through competency development, business results, expertise and proven success. To find out more visit http://www.oracle.com/partners.
About CDI
Founded in 1991, CDI(http://www.cdiconsulting.com) is synonymous with high quality software solutions integrated with Oracle JD Edwards. CDI provides SnapPay - a credit card automation solution integrated real-time with Oracle JD Edwards EnterpriseOne and World.
Trademarks
Oracle and Java are registered trademarks of Oracle and/or its affiliates.
# # #