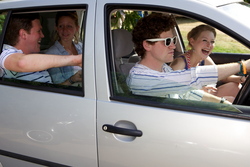 'It may be the Royal Wedding weekend, but it is also the perfect opportunity to discover the realm.'
(PRWeb UK) April 20, 2011
Whilst Royal Wedding fever sweeps across Britain, not everyone is keen to join in the party. Many would agree that there is a limit to the enthusiasm that can be mustered up for a wedding one's not even invited to.
goCarShare founder Drummond Gilbert, who will be spending the Royal Wedding on Colonsay in the Hebrides, has his own ideas about how best to use this most British of holidays.
Gilbert maintains that "Kate 'n' Wills" decision to give us all an extra day's holiday offers the perfect opportunity to take a short break and celebrate in truly British style by exploring a new corner of the UK. Gilbert stresses that it is not too late to organise a short break for two for under £150.
Using his website, goCarShare.com, drivers are able to list details of empty car seats as they drive around Britain. Passengers can search journeys, sign up via the website and hop in.
The website is connected to Facebook so both passengers and drivers are able to check each other out before agreeing to car sharing. Gilbert suggests that, rather than having a fixed idea of where to go, passengers look at the journeys available on the website to help them decide where to spend the Royal Wedding weekend. The website works out a sensible contribution for the passenger to pay the driver so that both parties save money.
The UK contains some of the most dramatic scenery and beautiful beaches in Europe. The four day holiday is an ideal opportunity to venture off the beaten track and explore some of the less well-known parts of the British tourist trail. Wales's Gower Peninsula was the first place in the UK to be designated an Area of Outstanding Natural Beauty. It's rugged coastline offers some of the best surfing in Britain without the crowds of Cornwall.
Similarly, Northumberland's wild coastline and windswept landscape provides a wealth of opportunities for weekend trippers. Particular highlights include Alnwick Castle, aka Hogwarts in the Harry Potter films, and the Farne Islands where tourists can see puffins, guillemots and seals.
It has never been easy to arrange a last minute break. http://www.ukcampsite.co.uk offers details of most of the campsites in the UK. For luxury camping, Sawday's Canopy and Stars, http://www.canopyandstars, cannot be beaten. 'It may be the Royal Wedding weekend, but it is also the opportunity to discover the realm.'
# # #