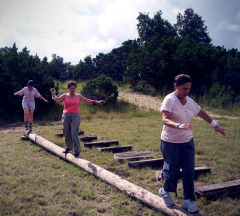 If guests follow the program, they will drop both pounds and inches. Guaranteed.
Bandera, TX (PRWEB) April 20, 2011
With bathing suit season just around the corner, people are dreaming of flat abs and toned limbs. But a few trips to the gym and a salad for lunch won't provide the desired results. For those with limited vacation days and a tight budget, a two-week Warrior Boot Camp is the perfect way to meet summer's clothing challenges head-on.
Rancho Cortez Fitness Ranch offers a two-week, all-inclusive, results-based weight loss program that's as no-frills as it is effective. The accommodations are a lot like summer camp. Guests stay in a bunk house, eat in a dining hall, and work hard for 14 days straight.
Unlike other programs, this one guarantees results. According to ranch owner Mary Cortez, "If guests follow the program, they will drop both pounds and inches. If not, the guest gets a repeat stay." According to Cortez, the program has been so successful that they have never had to give away a repeat stay.
Because everyone starts on the same day, participants feel both camaraderie and competition with other guests. "Competition between guests is good," says Cortez. "It encourages people to work even harder."
Guests at Rancho Cortez Fitness Ranch participate in everything from hillside hikes and trail rides to weight lifting and water aerobics. There are a variety of classes, instructors and activities to appeal to guests of all fitness levels. Although physical activity is paramount, they also address food intake. Each meal and snack is carefully crafted to ensure proper nutrition in a calorie-controlled environment.
Seventeen people participated in the first Warrior Boot Camp, with their ages ranging from 21 to 68. Most guests lost at least five pounds and several inches, although one participant dropped eleven pounds and an entire dress size.
Warrior Boot Camps are held every six weeks. The next one begins on May 15, 2011. It includes barracks-style accommodations (men and women separate), three meals and two snacks each day, and all physical activity instruction. It also includes mind/body classes such as hypnotherapy, nutrition classes and healthy cooking demos.
Rancho Cortez Fitness Ranch is located on 250 acres and nestles against a 5500-acre state park with 40 miles of hiking trails. For more information, visit http://www.ranchocortez.com or contact Mary Cortez at 830-796-9339.
###